SS Henry Chisholm
Bulk Freighter
1880
Thomas Quayle & Sons
Thomas Quayle & Sons; John Drackett
265 feet
1,832 tons
Double expansion steam engine
M.A. Bradley, Cleveland
M.A. Bradley, Cleveland
92,000 bushels of barley
M.A. Bradley, Cleveland
M.A. Bradley, Cleveland
U.S. 95610
10/20/1898
Near Rock of Ages Lighthouse
Minimum 125 feet; maximum 150 feet
0
84001752

Back
Next
H
enry Chisholm was a wooden bulk freighter with a single screw; it was powered by a fore-and-aft compound steam engine, producing 1,707 horsepower, fed by twin boilers. Chisholm, loaded, could reach 9 knots. The vessel was built close to the end of the era of large wooden vessels as steel was becoming a larger competitor in the boat building business. The vessel was involved in multiple accidents, which was not unusual for bulk freighters in this era. The vessel ran aground on its maiden voyage and a man fell through an open hatch. Vessels were built to maximize space and limitations through canals; this sometimes made for difficult navigation. The vessel was primarily involved in coal, iron ore, and grain trades. The freighter was also involved in towing services for underpower boats.
On October 20, 1898, at a speed of 9 knots, CHISHOLM struck Rock of Ages reef; the vessel was trying to enter Washington Harbor after spending days searching for the missing John Martin. All survived.
The vessel quickly broke up and was soon after caught in a northwest gale. The vessel has not been salvaged. Today, a large intact steam engine with drive shaft and prop dominate the scene. A buoy is attached to engine at 125 feet. Large sections of wooden hull are scattered amongst the remains of Cumberland.
Construction
The building of HENRY CHISHOLM was a matter of much interest and the contemporary press carried details of its construction:
The Henry Chisholm, the largest steambarge ever built in Cleveland was launched yesterday in the presence of 2,000 people .... Fully 800,090 feet of lumber were consumed in her construction ... (Chicago Inter Ocean Aug. 30, 1880).
Her strength is all that can be got with wood and iron. She has 150 tons of iron in her construction besides the engines and boilers. She has a wide, heavy band of iron running from bow to stern, her whole length, at the head of the frames, from which double diagonal heavy iron straps run down the sides and under the turn of the bilge, and fasten to the long frames under the bottom and bolt through the bands when they cross and outside of the frames under the planking. This is called iron strapping, and it entitles her to a rating of A 1* for ten years to A 1 1/2 for three years more, and A 2 for three years more, making sixteen years before she classes below A 2. She is expected to carry 2,000 gross tons of iron ore from Escanaba and also tow as many vessels as can get tow lines to hold them; 75,000 bushels of wheat, or 80,000 bushels of corn to Buffalo ... She came out of Cleveland without having tried her engines, and ran eight and a half miles an hour to Detroit with everything new and rough ... She is all right in every way. She steers well in rough weather, doesn't bend, or work, or give, or creak, or leak. She is as strong as though she was all in one piece, and has power to steam almost any gale of wind ....
The iron beams under the boilers, and the iron house over and around the boiler, with the iron coal bunkers, are sure protection against fire. Her outfit includes all the new improvements and tried inventions of the steamboats of today. Her cabins and rooms are large, and are heated with steam, and she is well furnished. Without the least exaggeration it may be said that the Henry Chisholm is the peer of any craft afloat on salt water or fresh (Chicago Inter Ocean Sept. 24, 1880).
HENRY CHISHOLM was built in Cleveland by the firm Thomas Quayle's Sons, under the direction of master carpenter John Drackett (ship documents). The new bulk freighter, the largest steambarge on the Lakes, slipped down the ways August 28, 1880 (Chicago Inter Ocean Aug. 30, 1880). The builder was an old, established firm well known for the high quality vessels they produced. The ship building company was founded by Thomas Quayle, whom some acknowledged as the father of Cleveland shipbuilders (Mansfield 1899:1:427).
Thomas Quayle retired in 1879 (Mansfield 1899:2:692), and upon the entry of a third son his firm became Thomas Quayle's Sons. The sons of Thomas Quayle reaffirmed the company's reputation for building large, staunch, Great Lakes vessels; when HENRY CHISHOLM was launched it was the largest bulk freighter on the Lakes (Mansfield 1899:1:735).
HENRY CHISHOLM's Master Carpenter John Drackett, who was an English emigrant to Cleveland in 1851, had built many Lakes vessels. During most of his career he worked under contract for well-known Lakes shipbuilders' on both sailing craft and steamers. Drackett moved to Detroit in 1874 and in 1876 was employed for 4 years by Alva Bradley during which time he built HENRY CHISHOLM. In 1881 he moved to Toledo and built DAVID DOWS, the only five-masted schooner on the Lakes (Mansfield 1899:2:686). CHISHOLM's construction reflected the expertise of this master carpenter and was generally recognized as one of the finest steam barges on the Lakes. Captain George Stone was the superintendent of construction.
HENRY CHISHOLM was built for Alva Bradley and launched on August, 1880. The ship received its first inspection on September 16. It was painted the Bradley colors with a green hull and red stack. The vessel originally carried three masts. CHISHOLM was given U.S. Registry number 95610.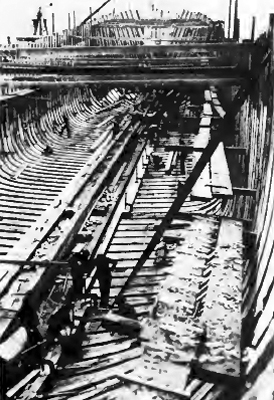 Construction yard photograph during the building of a contemporary steambarge similar to HENRY CHISHOLM. U.S. Army Corps of Engineers Canal Park Marine Museum Collection: ISRO Archives.
CHISHOLM was built as a wooden bulk freighter with a single screw. These vessels were commonly termed "steam barges." It was powered by a fore-and-aft compound steam engine, which produced 1,707 horsepower, fed by twin boilers. The compound engine, built by the Globe Iron Works of Cleveland, was reportedly of the "Randolph and Elder pattern, cylinders 30x56 inches, four feet stroke" (Chicago Inter Ocean Sept. 23, 1880). The speed of the loaded ship was about 9 knots.
CHISHOLM, considered a "leviathan" at the time of construction, was 270 feet of overall length and registered length of 256 5/10 feet, 39 3/10 feet in breadth and 20 3/10 feet in depth. The capacity under the tonnage deck was 1692 27/100 and the capacity of enclosures on the upper deck (poop) was 83 10/100 for a total of 1775 37/100 gross tons. Deductions allowed by the Act of August 5, 1882 totaled 443 19/100 for a total net tonnage of 1332 18/100. Permanent enrollment was dated at Cleveland, Ohio, September 18, 1880.
CHISHOLM was built just as shipbuilding was approaching the maximum sizes possible with wood as the principal material. Quayle's company had been experimenting with the construction of the largest of wooden hulls and their experience was incorporated into CHISHOLM. Iron, a recently introduced competitor, and later steel, would supersede wood for the construction of large hulls. The latter were more expensive when CHISHOLM was launched, which may account for the owners decision to build their hull with traditional materials. CHISHOLM cost $125,000.
CHISHOLM was a powerful towing vessel and was built with the intention of pulling one, and sometimes more, barges, as was the typical practice of the time. The barges were generally older schooners converted for towing, although some schooner barges were constructed specifically for the purpose.
Operational History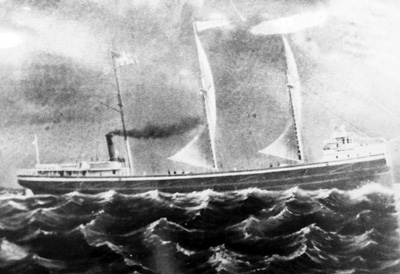 Artistic Rendition of the SS Henry Chisholm, Historic Photograph Collection: ISRO Archives.
During HENRY CHISHOLM's operational life it was involved in many accidents, some minor, some serious, which was not unusual for bulk freighters of the period. The high number of accidents was often a reflection of the operation of vessels built to the maximum dimensions of practical navigation. The long series of incidents began the day the ship was launched. Soon after the launch a sailor fell through the open hatchway and was severely injured (Chicago Inter Ocean Aug. 30, 1880).
Even the maiden voyage was not without incident. The new vessel ran aground twice. The first cargo CHISHOLM carried was 1800 tons of coal (Cleveland Herald Sept. 9, 27, 1880). The ship grounded in the west draw of the Chicago Avenue Bridge, blocking it overnight. The ship was wedged between the banks of the narrow channel. Six Union Tug Line tugs were unable to budge the freighter until 250 tons of coal were removed (Ibid. 27, 1880).
CHISHOLM was freed only to run aground again in the Ogden Canal "within a stone's throw" of the North Side Gas Company's dock (Cleveland Herald Sept. 28, 1880). Lightering operations were again carried out and the vessel finally made it to the dock. The reason for the grounding was a strong south wind that unexpectedly reduced the water in the Ogden Canal to 12 feet; CHISHOLM was drawing more than 13 feet (Ibid. Sept. 29, 1880).
The only alteration noted in the first year of CHISHOLM's operation was the change of steering gear from wire to chain (Cleveland Herald June 11, 1881). In 1882 CHISHOLM ran aground in the river at Chicago and broke its wheel. It took five tugs and a locomotive to pull the ship through the Harrison Street Bridge (Ibid. Nov 4, 1882).
Repairs include a bent key connecting the piston with the crosshead in 1884 (Ibid. Aug 24, 1884). The stern bearings were repaired in 1886 (Detroit Free Press July 2, 1886).
In 1883 CHISHOLM ran aground at the Willow Street bridge in Cleveland and had to lighter some ore to get off. The vessel was damaged and entered the Globe dry dock for repairs (Cleveland Herald Oct. 13, 16, 1883).
CHISHOLM had been recaulked in 1890 and received a Lloyd's rating of A2 with a value of $75,000. The rating and value were both raised in 1896 when the ship was reboilered with two new Scotch boilers.
Wreck Event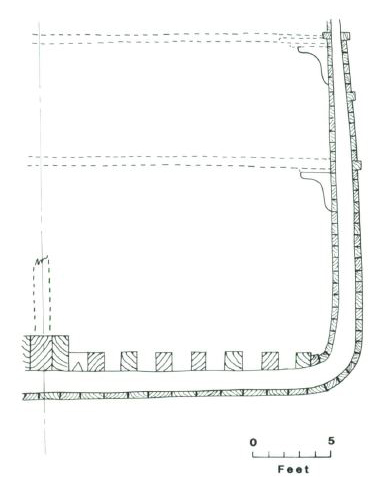 SS Henry Chisholm, X-section at Midships, C.P. Labadie, ISRO Archives.
The last voyage of HENRY CHISHOLM began in Duluth on Sunday, October 16, 1898. CHISHOLM was loaded with 92,000 bushels of barley. The ship was downbound for Buffalo with the 220-foot schooner JOHN MARTIN in tow, carrying 1.2 million board feet of lumber. Captain P.H. Smith was master of HENRY CHISHOLM and the captain of JOHN MARTIN was James Lawless, second master of CHISHOLM. Both vessels were majority owned by M.A. Bradley of Cleveland (Wisconsin State Journal Oct. 21, 1898).
A gale arose and the weather was heavy by the time the two vessels neared Copper Harbor on the Keweenaw Point. MARTIN, with fore and main sails set, cast off the tow line about 5:30 p.m. Monday (Oct. 17) and was soon lost to view. There was a heavy southeast wind and CHISHOLM's captain headed up the Lake across the wind (Ft. William Daily Journal, Oct. 21, 1898). CHISHOLM cruised about until Tuesday morning in an effort to locate the missing schooner (Superior Evening Telegram Oct. 21, 1898).
CHISHOLM headed for the Apostle Island group and refueled at Ashland. The search for JOHN MARTIN was resumed at 11:00 a.m. Tuesday. The search route ran to the north shore with a call at Grand Marais, and from there to search the Isle Royale area (Ft. William Daily Journal Oct. 21, 1898).
The wreck occurred on Thursday, October 20 at either 5:00 a.m. (The Daily Journal Oct. 21, 1898) or at 8:00 a.m. while the ship was trying to enter Washington Harbor (Wisconsin State Journal Oct. 21, 1898). CHISHOLM was doing about 9 knots, full speed, when it struck the Rock of Ages reef. The ship carried a crew of 16 (Duluth Evening Herald Oct. 21, 1898).
Soon after striking the reef, Capt. Smith and First Mate Whitsman (or Whitman), who had been consulting in the ship's cabin, rushed to the deck and saw many fragments of heavy oak hull planking floating in the water. The captain decided there was no hope of pulling it off and launched the 18-foot lifeboat or yawl boat (Detroit Free Press Oct. 22, 1898) under the command of the first mate. Along with Whitsman in the lifeboat were Second Mate Gilbert Wide (Wilde), Wheelsmen James Agger and Angus MacDonald, and Seaman Harry G. Carrow. These men set out rowing for Victoria Harbor 14.5 miles away. They arrived there about 11:00 a.m. and were picked up by the steamer DIXON (Ft. William Daily Journal Oct. 21, 1898).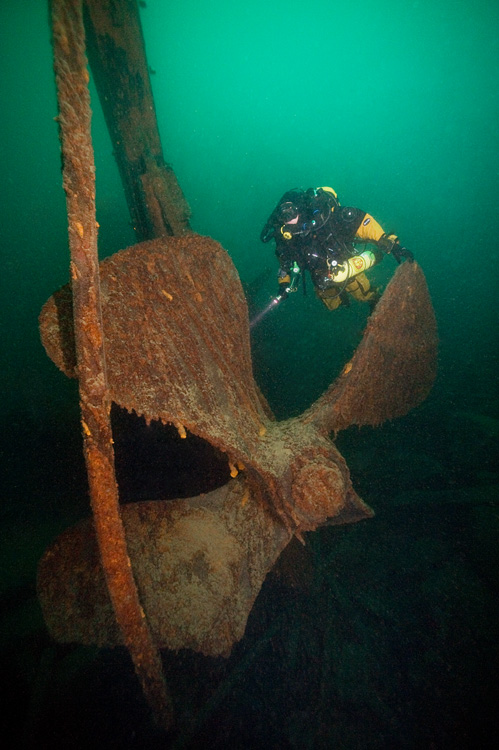 SS Henry Chisholm Shipwreck, Isle Royale National Park.
DIXON (probably HIRAM R. DIXON, a 329 gross-ton propeller built in 1883 at Mystic, Connecticut) arrived in Duluth with the shipwrecked crew aboard (Wisconsin State Journal Oct. 21, 1898). This same account said the crew had gone to Isle Royale before Whitsman was dispatched to report the vessel's loss. CHISHOLM was reported rapidly breaking up and feared a total loss. A wrecking expedition sent by the Inman Tug Line had been dispatched.
Soon after the lifeboat under command of the first mate left CHISHOLM, the captain and remainder of the crew rowed the 4 miles to Washington Harbor. The vessel was reported in 12 feet of water at the bow and 40 feet at the stern, listing 4 feet (Ft. William Daily Journal Oct. 21, 1898).
JOHN MARTIN, although feared water logged and lost (lumber had been spotted on the south shore), survived the ordeal in good shape. The steamer NESHOTO, a 2,255 gross ton propeller commissioned that year and built at CHISHOLM's home port of Cleveland, arrived in Duluth on October 21 with a reported sighting of the missing JOHN MARTIN off Eagle Harbor. MARTIN was sailing east. MARTIN was reported at Sault Ste. Marie the evening of the 21st under tow of the Canada-Atlantic liner ROMAN. ROMAN was a 2,348 gross ton package freighter built in 1891 in Cleveland. It was reported ROMAN picked up MARTIN off Copper Harbor, near where it was originally separated from HENRY CHISHOLM ( Detroit Free Press Oct. 22, 1898; Duluth Evening Herald Oct. 22, 1898).
Shipwreck Site Map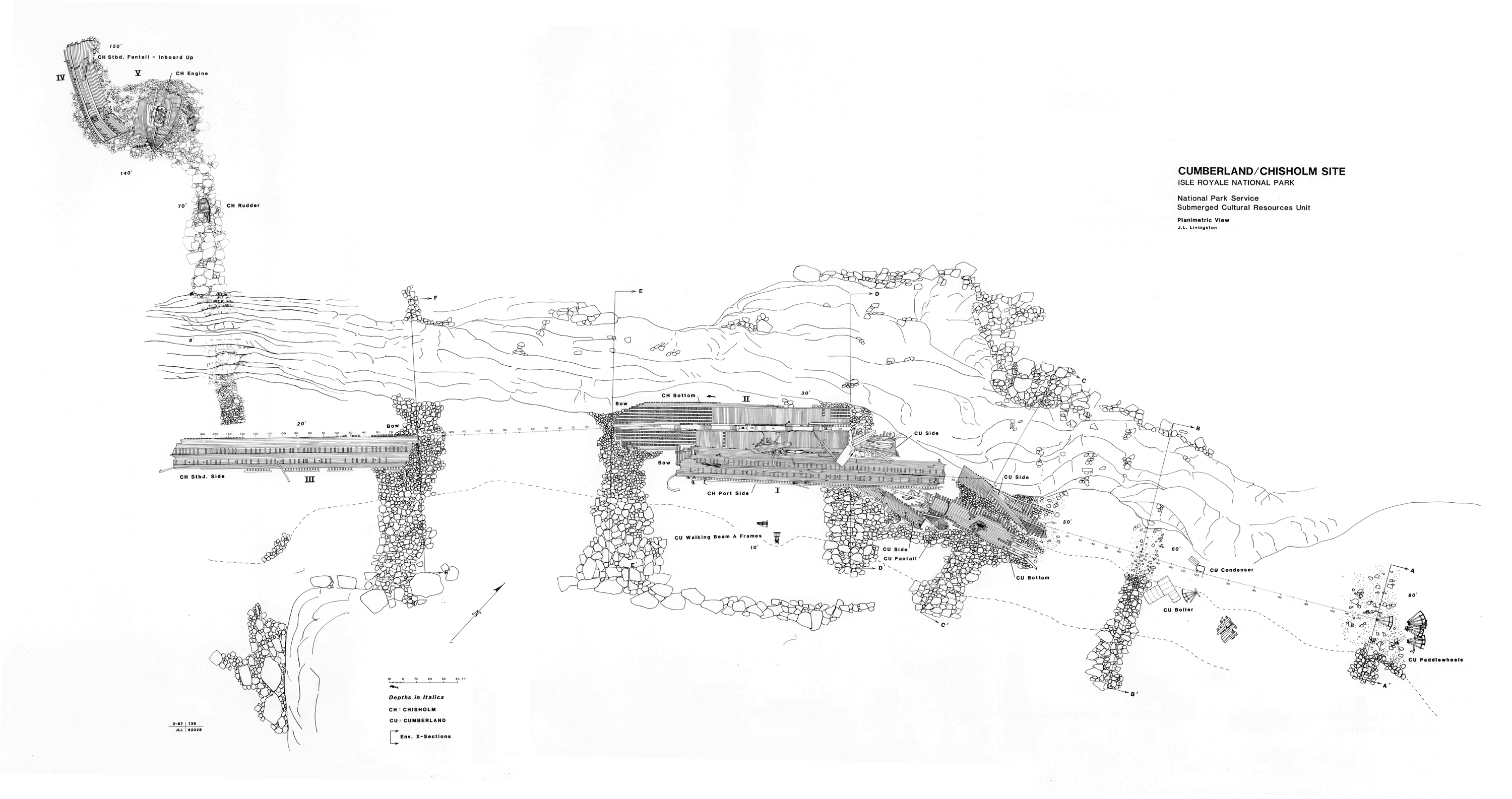 Hover
SS Cumberland/Chisholm Site Map, Submerged Cultural Resource Unit, J.L. Livingston, February 1987, ISRO Archives.
Citations:
Isle Royale Shipwrecks. December 15, 1965. Isle Royale National Park Archives, Resource Management Records: Branch Chief Era, CRM History (ACC#ISRO-00614, Box 117), Houghton, MI.


Lenihan, Daniel. Submerged Cultural Resources Study. Santa Fe, N.M: Submerged Cultural Resources Unit, National Park Service, 1987. Print.