SS America
Package Freighter
1898
Detroit Dry Dock Company
Detroit Dry Dock Company
164.6 feet; lengthened to 182.6 feet (1910-11)
681 tons
Triple expansion steam engine 15"-24"-38"-24"
Dunbar & McMillan
U.S. & Dominion Transportation Co.
Edward Smith
John Wick
Passengers & Fruit
Booth Fisheries Company
S.S. America Salvors, Inc., c/o James Marshall
Hull insured, $60,000
U.S. 107367
6/7/1928
$150,000
North Gap of Washington Harbor
Minimum 2 feet; maximum 80 feet
0; 1 pet dog (Spike)
84001708

Back
Next
A
merica was built to act as an excursion vessel between Michigan ports and Chicago. During this time, as many as 1,200 excursionists would be aboard. In 1902, America was purchased by the Booth Company and was moved to Lake Superior. The vessel now moved from Duluth, Minnesota, Isle Royale, to Thunder Bay, Ontario. The vessel was known for its friendly captains and prowess in the fog.
On June 07, 1928, America had dropped off passengers at Washington Harbor, on the southwest side of Isle Royale. Captain Edward Smith turned the wheel over to first mate John Wick, who was new to America's crew and Isle Royale. Heading outbound of Washington Harbor, Wick clipped the vessel on a reef; luckily the engineer was able to ground the vessel in the North Gap. Captain Smith had five life boats launched and everyone, save one pet dog, was able to get off America before it sank.
A portion of the bow remained above the water, before becoming fully submerged sometime following the summer of 1929. The forward cargo hold remained mostly accessible throughout this time. For several weeks after the wreck the ship's fruit cargo continually surfaced and washed ashore. Island resident Stanley Sivertson once remarked, "We ate fruit all summer".
The vessel was not fully salvaged due to the oncoming Depression years. There had beed multiple attempts to salvage, and eventually raise the America, however none of these were successful. This is the most popular dive site at Isle Royale. It is possible to see the affects of natural site transformation processes. Ice shove affects shallower parts of the vessel.
Construction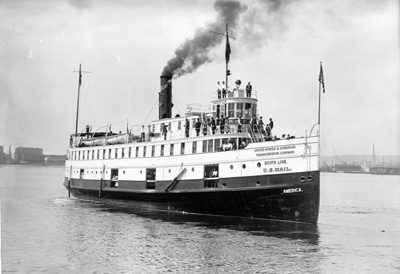 SS America: Kenneth E. Thro Collection, ISRO Archives.
AMERICA was Hull Number 127 for Detroit Dry Dock Company(Edward N. Middleton notes, Canal Park Marine Museum Collection, Duluth). Events surrounding the launch of the AMERICA'S hull on Saturday, April 2, 1898, were carried by the Detroit Free Press (May 22, 1898):
Yesterday afternoon at 3:26 o'clock the steel passenger steamer AMERICA was launched at the Wyandotte yards of the Detroit Dry Dock Co. There were about 400 people present .... At exactly 3:17 the first click of the hammers was heard and in just nine minutes the axmen had cut the ropes that held the big beams in place and the boat slid gracefully off the ways .... She was christened "AMERICA" by Mrs. E. C. Dunbar, wife of one of the owners.

The new boat, which was intended for the Lake Michigan service between Michigan City and Chicago, was built on the same general lines as the CITY OF ERIE, though much smaller (Detroit Free Press April 3, 1898).
Less than a month later, after the new ship was completed at the Detroit Drydock (about June 10) and began the daily run between Chicago and Michigan City ( Detroit Free Press May 22, 1898), Chicago marine men were expressing their satisfaction with AMERICA and remarking on its speed of 15-17 miles an hour.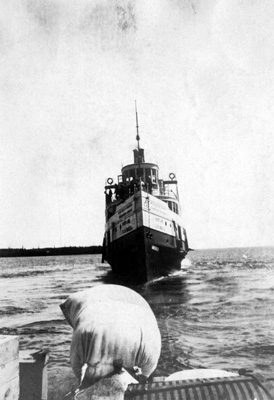 SS America: Frank Warren Collection, ISRO Archives.
AMERICA'S first document of enrollment was a temporary one issued on June 13, 1898 in Detroit. This document listed E. C. Dunbar of Michigan City as 3/4 owner and M. B. McMillan of Detroit as 1/4 owner. The master of record is Capt. M. F. Morgan. A master must be assigned at the time of ship enrollment. In many cases this master, as shown on the documents, is not actually the captain of the vessel, but rather a representative of the company or individual who owns the vessel. In this instance, Capt. M. F. Morgan was also the captain. The document shows AMERICA was built by Detroit Dry Dock Company in 1898 at Wyandotte, Michigan. United States registry number 107367 was given to AMERICA, which was classed as a steel hull screw steamer. This document states the steamer had one deck, no masts, plain head, and round stern, with registered dimensions of 164.6 feet in length, 31.0 feet in breadth, and 11.0 feet in depth. The gross tonnage was calculated to be 486.37 tons, consisting of 309.79 tons capacity under the tonnage deck and 176.58 tons capacity of enclosures on the upper deck. AMERICA'S net tonnage was 283.40 tons, allowing for deductions of 28.90 tons for crew quarters, 28.90 tons for master's cabin, 18.43 tons for anchor gear, and 155.64 tons for propelling power (Temporary Certificate of Enrollment, No. 69, Port of Detroit, issued June 13, 1898; Detroit Free Press (May 22, 1898).
AMERICA'S engine and boilers were listed as built in 1898 by Dry Dock Engine Works of Detroit. It is a triple-expansion engine with cylinder diameters of 15, 24, and 38 inches and a stroke of 24 inches. The engine produced 700 indicated horsepower at 160 RPM. Steam for the engine came from two Scotch boilers, 10.0 feet in diameter and 10 feet 2 inches long. The boilers had four furnaces with grate surface of 48 square feet, and heating surface of 2,242 square feet; working pressure was 125 psi.
The hull of AMERICA was lengthened in 1911 at the shipyard in West Superior, Wisconsin. When work was complete, AMERICA was 18 feet longer with 12 added staterooms for 50 additional passengers. The freight capacity was also increased by about 100 tons. The beam of 31 feet and depth of 11 feet remained unchanged. However, the new length was 182.6 feet and registered tonnages increased to 937 gross and 593 net tons (Doc. of Enrollment Sept. 9, 1911). The speed remained unchanged, but handling and appearance were reported improved with the addition of the 18-foot section.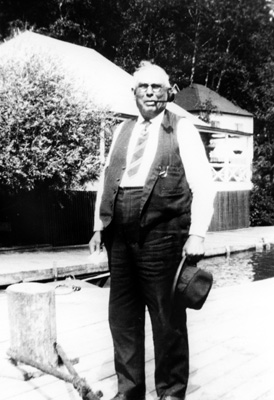 Captain Edward C. "Indian" Smith, Minong Lodge: Wolbrink Collection, ISRO Archives.
Master of AMERICA was listed as E. C. Smith with Louis P. Hogstad of Duluth as the owner's representative. The approximate number of crewmen required was listed for the first time as 20 persons (Permanent Certificate of Enrollment, No. 79, Port of Duluth, issued June 9, 1911). By the time of its sinking, AMERICA would be required to carry 30 crew members.
Minimum crew requirements were specified as 1 licensed master and pilot, 1 licensed first-class pilot, 5 able seamen, 3 seamen, 11 certificated lifeboat men, 1 licensed chief engineer, 1 licensed first assistant engineer, 3 oilers, 3 firemen, and 4 watchmen. An added note stated, "Of the watchmen specified, 2 are main or deck watchmen included in the deck department and 2 are cabin watchmen or deck patrol and included in the stewards department" (Ibid : 1 0- 1 1). In all, the number of officers and crew allowed was 30 and the total number of passengers allowed was 94. Thus, the total number of persons allowed to be carried under Class (A) rules equalled 124. An additional handwritten note referring to Class (A) stated, "When running more than 3 miles off shore during the interval between May 15 and Sept. 15, both dates inclusive, 277 passengers are allowed making a total of 307 persons including crew" (1928 BIR:13). One additional note was pencilled adjacent to the latter saying simply "14 less than last year", but without further explanation.
AMERICA carried cork life preservers: 307 for adults, 39 for children, and 12 for lifeboats. Sixteen were condemned during inspection in April 1928, perhaps explaining why the number of passengers allowed was reduced by 14 as noted above. The ship also carried 2 ordinary ring life buoys and 2 "luminous ring life buoys" (1928 HIR:40-41).
Operational History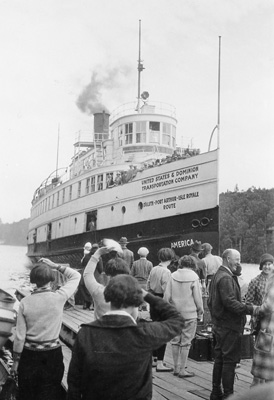 SS America, Isle Royale: Wolbrink Collection, ISRO Archives.
Little historical documentation has been located for the first two seasons of America's operation, other than the ship was periodically chartered for special cruises and to augment the vessels of other lines. One of the early charters was to the International Navigation Co. of New York to run between Buffalo and Niagara Falls (Benton Harbor Daily Palladium March 12, 1901; Holland City News March 15, 1901).
AMERICA'S involvement with Isle Royale began in March 1902 when the Booth Steamship Line purchased the new ship. Booth put AMERICA on "the Duluth Port Arthur, and Isle Royale route" (Canadian Railway and Marine World March 1902:109). Before heading up the Lakes, the ship was altered at Grand Haven where the cabin capacity was "materially increased" (Duluth News Tribune March 18, 1902). The new Booth Line steamer, due to arrive in Duluth April 15, was rated "one of the finest and fastest freight and passenger boats available" (Ibid. April 5, 1902).
At the end of the 1903 season, the Isle Royale lightkeepers were returned to the mainland aboard AMERICA, as they frequently were in the years that followed (Ibid. Nov. 26, 1903). AMERICA often had the distinction of being the first passenger out and the last to end the navigation season (e.g. Duluth Evening Herald April 20, 1914; Duluth News Tribune April 24, 1918).
For most of AMERICA'S career it served as a prime communication and transportation link between the Lake Superior north shore settlements and between the mainland and Isle Royale. Passengers and freight were connected to the main economic outlet of the port of Duluth, and this trade was the commercial mainstay of AMERICA'S operation. In the early period of AMERICA'S operation the north shore roads were poor (e.g. Duluth Evening Herald April 22, 1907). AMERICA was also a principal summer mail carrier alternating with a stage line that carried during the winter (Duluth Evening Herald April 30, 1913). Over the course of the last two decades of AMERICA'S operation, land transportation along the north shore improved markedly, cutting sharply into the steamer's prime role in communications and transportation. A road was completed around Lake Superior in 1921 (Duluth News Tribune May 1, 1921). During the later years AMERICA expanded operations in the excursion trade, although it never left the north shore-Isle Royale run.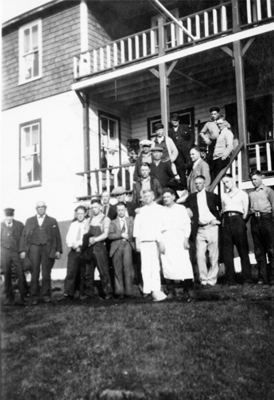 Crew of the SS America, Washington Harbor: R.E. Johns Collection, ISRO Archives.
In 1909 the old company was dissolved and a new enterprise named Booth Fisheries Company of Delaware was formed, that took over the operations (Duluth Evening Herald June 3, 1909). AMERICA had not been affected and was continuing on schedule. A month later Fourth of July celebrations were celebrated at Isle Royale (Ibid. July 10, 1908). The managing agent of AMERICA was changed in 1914 to the United States 8t Dominion Transportation Co., a company formed by the Booth Fisheries Co. (Duluth Evening Herald April 22, 1914). Ownership of the vessel was unchanged.
The start of AMERICA'S 1911 season was delayed while the hull lengthening was completed (Duluth News Tribune May 9, 1911). Eighteen feet of length and 12 cabins had been added. The steamer could carry 100 tons more freight as a result of the new alterations. It was announced that the steamer would make three trips a week between Duluth and Port Arthur, and Isle Royale. One of the popular Isle Royale resorts that AMERICA frequented was Schofield's Lodge on Belle Isle. It was a popular excursion, and the resort catered to vacation clientele (Duluth Evening Herald June 17, 1912).
In 1925, the steamer BRUCE took over AMERICA'S operation on the south shore. AMERICA would make three trips weekly to Isle Royale and Port Arthur (Duluth News Tribune April 25, 1925). Later that year, AMERICA ran aground at Scott's Point, near Grand Marais and damaged the rudder shoe and stern bearing (Duluth News Tribune May 30, 31, 1925).
During the last winter of its operation, AMERICA steamed to Port Arthur during a severe December storm: The steamer AMERICA arrived in port this afternoon from Duluth. She was completely ice-coated. Aboard was a cargo of salt for the Booth Fisheries Canadian company. The vessel is taking back salted herring" (Port Arthur News Chronicle Dec. 3, 1927). This would have put AMERICA on its return voyage to Duluth in the same storm that halted KAMLOOPS, QUEDOC, WINNIPEG, and other vessels on their upbound journeys from the Sault toward the Canadian Lakehead.
Collisions
Wreck Event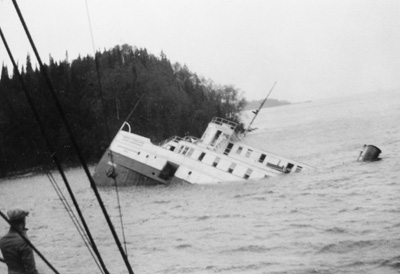 SS America, Washington Harbor, 1928: Wolbrink Collection, ISRO Archives.
Update Required
To play the media you will need to either update your browser to a recent version or update your
Flash plugin
.
Oral History 61: Stanley Sivertson 3 & 4, March 03, 1987, Dave Snyder: ISRO Archives.
AMERICA'S 1928 season began as many before it. There were no signs at all that this would be AMERICA'S final season. AMERICA last steamed out of the Duluth Ship Canal on Wednesday, June 6, 1928, headed up the north shore and expected to touch at all the usual ports of call. From Grand Marais it headed toward Isle Royale to drop off a number of passengers in the darkness of early morning so they would not have to wait out the trip to Port Arthur and around the northeast tip of the island, before landing at their Washington Harbor destinations the following day (Duluth News Tribune June 7, 1928; Superior Evening Telegram June 7, 1928; Holden interview with Capt. Stanley Sivertson, Duluth, Minn, in 1973 and with James R. Marshall, Pike Lake, Minn, in Oct. 1974, 1986).
Soon after clearing the dock in Washington Harbor, Capt. Smith turned command of AMERICA over to First Mate John Wick, with Fred Nelson at the wheel, and retired to his cabin behind the bridge. Five minutes later AMERICA thudded over a reef, bumping four times and tearing a small hole through its single bottom below the engine room on the starboard side. Mate John Wick was a new mate on AMERICA, having served previously as mate under Capt. Gus Ege on JACK of the Minnesota Atlantic Transit Co., popularly known as the "Poker Fleet." Wick quit MATCo because Capt. Ege would not recommend him for his own ship in the fleet (Ken Hafner interview with Capt. Duncan Schubert at Sault Ste. Marie, Mich. ca. 1977, copy in Holden Collection).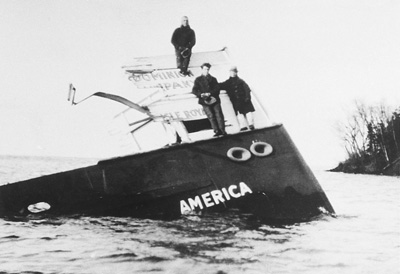 SS America, Washington Harbor, 1928: Patrie Collection, ISRO Archives.
At first it seemed as though AMERICA'S pumps could handle the inrushing water, but Chief Engineer Frank McMillan quickly reassessed the situation - AMERICA was going to sink. Meanwhile Capt. Smith returned to the bridge where he found Mate Wick ringing the ship's bell to alert all aboard of the disaster. Moments later Capt. Smith yelled, "Beach her! Beach her!" (Holden interviews with Marshall 1974, 1986).
Capt. Smith remembered a small gravel beach nearby in the North Gap of Washington Harbor. It would be a good place to try to nose AMERICA ashore before she foundered in deep water. He ordered Fred Nelson to swing the wheel to point AMERICA directly toward the beach. Then another thud and AMERICA ground to a halt about 30 yards short of the beach that probably would have assured its imminent salvage, subsequent repair, and return to service.
Below deck in the engine room, Engineer McMillan ordered his crew to relieve boiler pressure and grease down everything in sight so AMERICA'S power plant could be made readily functional when salvage work was completed. Water already had snuffed fireman Hans Fjorne's boiler fires (Holden interviews with Marshall 1974, 1986).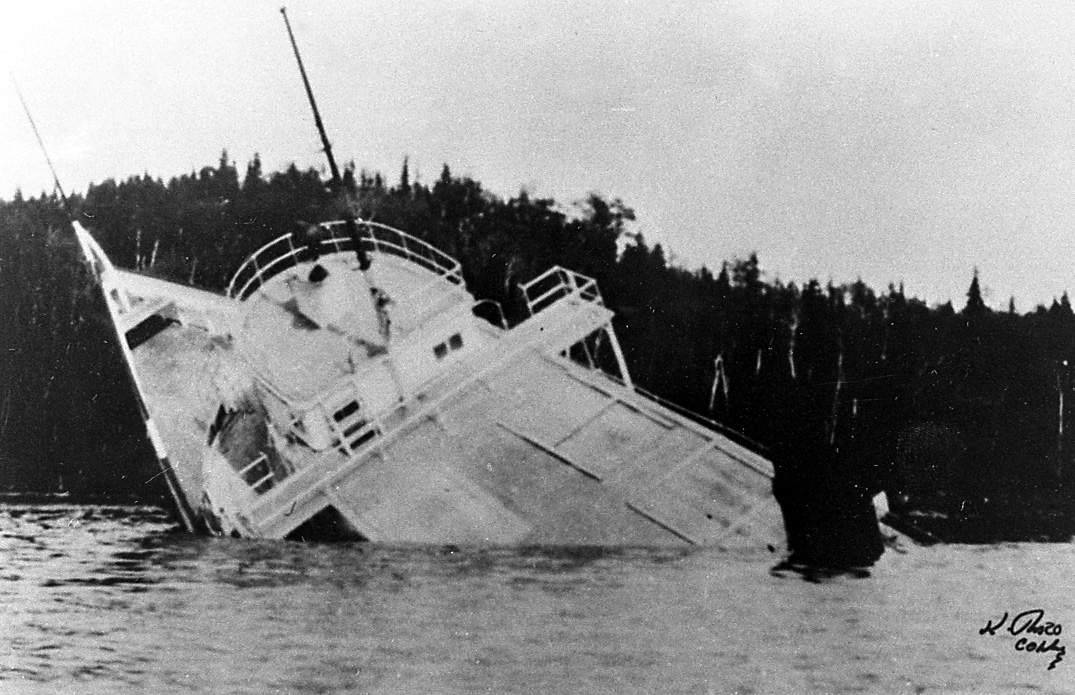 SS America, Washington Harbor, 1928: Thro and Patrie Collections, ISRO Archives.
AMERICA was carrying 31 crew and 16 passengers at the time of the accident (Duluth News Tribune June 9, 1928): In all 10 passengers and at least 30 officers and crewmen were aboard when AMERICA slipped away from the Singer Hotel dock at Washington Island. Captain Smith officially reported 31 crewmen aboard at the time of the accident. It is possible Louis P. Hogstad, Manager of United States & Dominion Transportation Company, was aboard at the time of the accident and considered by Capt. Smith as a member of the crew (Record of Casualties to Vessels, U.S. Treasury Department, p. 17, bound journal, copy in Canal Park Marine Museum collection).
The estimated value of the vessel was $100,000; the 55-ton cargo of miscellaneous merchandise was valued at $10,000. The amount of insurance on the hull was $60,000; disbursements was $40,000. The cargo was uninsured (Record of Casualties to Vessels, U.S. Treasury Department, 17, bound journal, copy in Holden Collection).
Media Coverage / Survivor Accounts
The loss of the steamer AMERICA was covered in newspapers and journals ranging from the American and Canadian Lakehead port cities to Chicago and New York (Lake Carriers' Association, 1928 Annual Report : 51-52; Canadian Railway and Marine World, ca. July 1928). First news of the wreck was carried over the wireless station affiliated with Singer's resort on Washington Island and sent to Duluth (Port Arthur News Chronicle June 7,8, 1928).
Shipwreck Illustration and Site Map
The forward part of the superstructure has been removed by ice, wave action, and a past salvage operation. The midship and stern are intact, including engine room, galley, and numerous cabins. Watch out for silt entanglement, and visibility problems inside the America. Two point mooring with a buoy on a sinker in 20 feet and a marker buoy on the bow in 2 feet.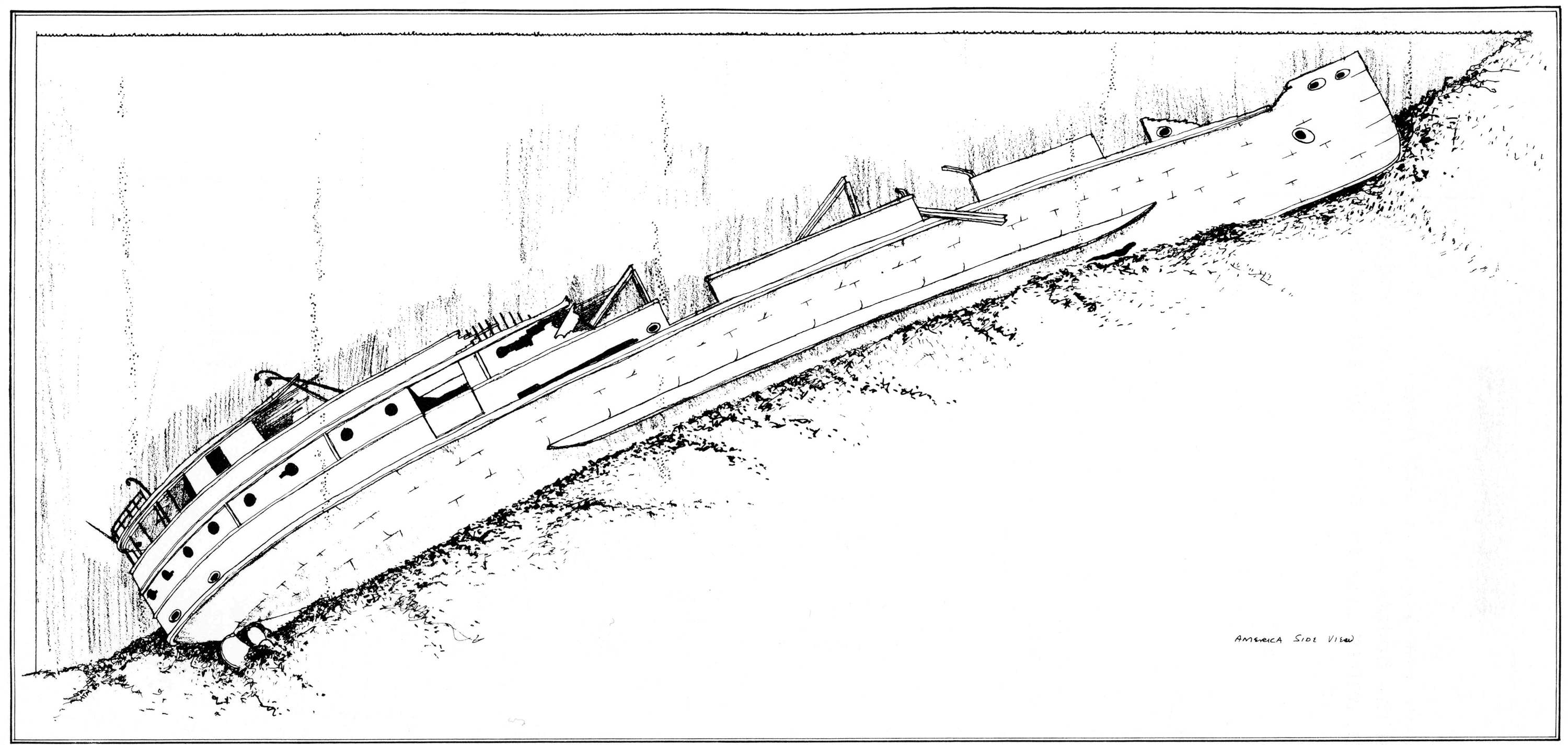 Click
SS America Side View by H. Thom McGrath: Submerged Cultural Resource Unit, ISRO Archives.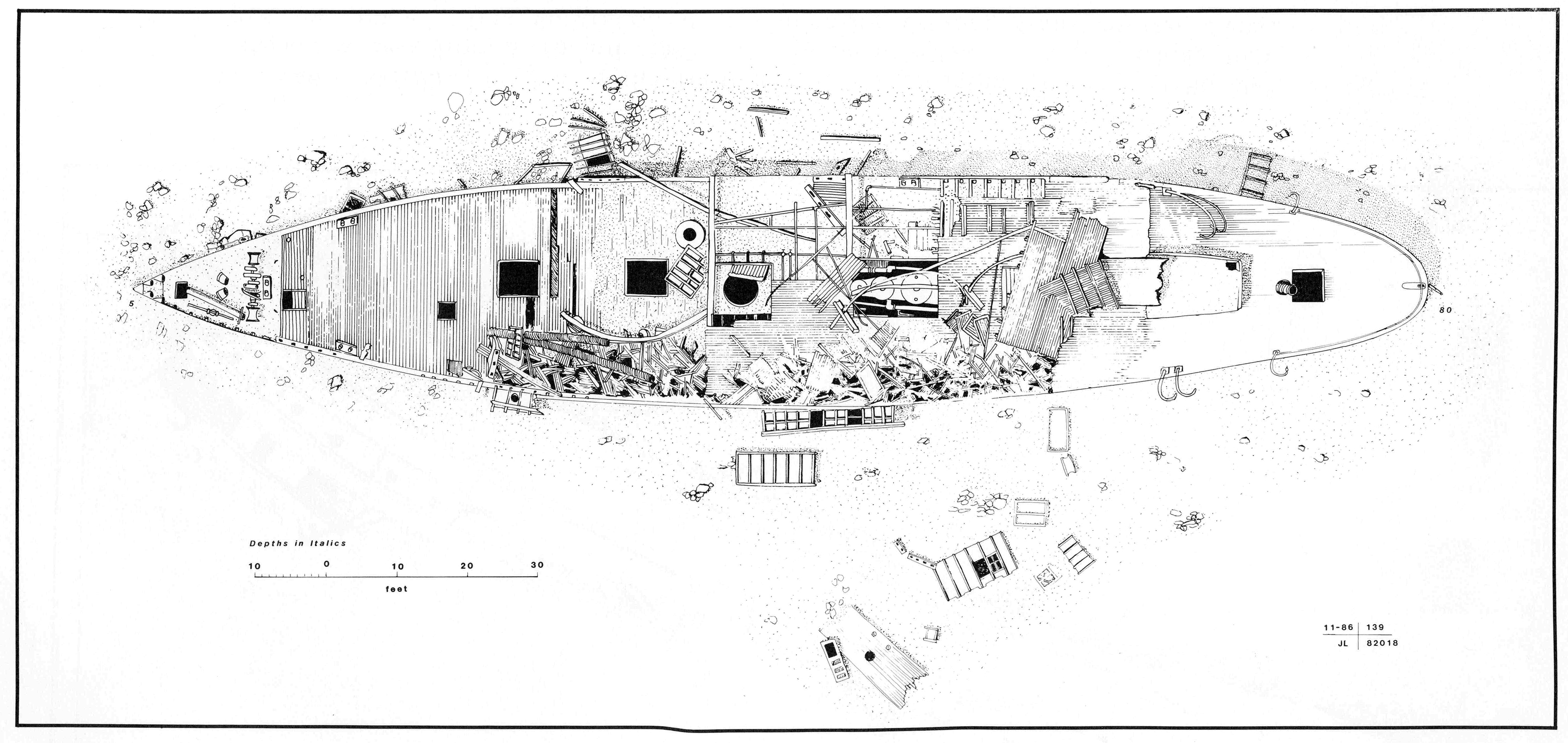 Hover
SS America Site Map, J.L. Livingston, November 1986: Submerged Cultural Resource Unit, ISRO Archives.
Citations:
Isle Royale Shipwrecks. December 15, 1965. Isle Royale National Park Archives, Resource Management Records: Branch Chief Era, CRM History (ACC#ISRO-00614, Box 117), Houghton, MI.


Lenihan, Daniel. Submerged Cultural Resources Study. Santa Fe, N.M: Submerged Cultural Resources Unit, National Park Service, 1987. Print.