Smithwick Mine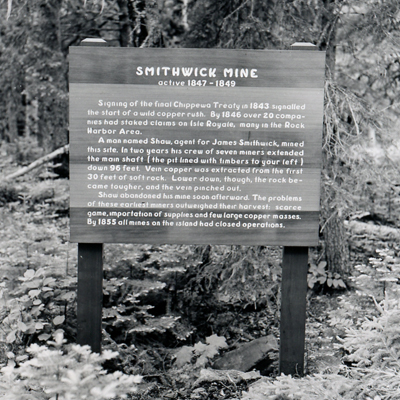 Smithwick Mine Interpretative Sign, NVIC (60-368), ISRO Archives.
T
he Smithwick Mine was one of the earliest established on Isle Royale and is probably the one most often seen by visitors today. It was located in July 1843 by James Smithwick and worked by his agent, C. G. Shaw. Active work began in 1847, when a blacksmith shop, a root cellar, and several dwellings were built, some near the mine, some just to the east of the present Rock Harbor marina. Two shafts were started, and a great deal of exploration in the vicinity was carried on. By 1848 the main shaft had been sunk to the depth of 90 feet. Little copper was found, and we have no record of commercial production. The present remains of the prospect consist of four shafts, on a north-south line, along the Moose Trail leading from Snug Harbor.
Citation:
Rakestraw, L., United States., & Isle Royale Natural History Association. (1965). Historic mining on Isle Royale. Houghton, Mich.: Isle Royale Natural History Association in cooperation with the National Park Service.