Ohio and Isle Royale
T
he Ohio and Isle Royale Company, like the Siskowit, was given permission by the Secretary of War to file on Isle Royale locations between Rock Harbor and Chippewa Harbor. A townsite named Ransom, after the Agent, Leander Ransom, was soon established. In 1847 forty or fifty men cleared land, built houses, planted a garden, and explored on the ridge north of the townsite for copper. Early prospects looked promising, and a smelter was built that year.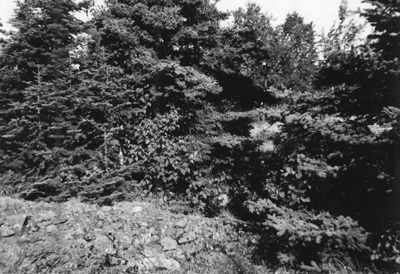 Remnants of the Ransom Townsite, Daisy Farm, 1964/1965: Rakestraw Collection, ISRO Archives.
Charles T. Jackson, U.S. geologist, 1847:
"The company now employs about fifty men, and has made great improvements at Rock Harbor erecting good buildings, cleared a large area of land, made a good garden, through which a brook flows, and is crossed in the middle by a good bridge. The soil is fertile, producing most of the ordinary culinary vegetables in abundance. It is probable, if mining operations should prove advantageous on Isle Royale, that a village will spring up in this place; and, since the improvements alluded to were first made by Mr. Leander Ransom, of Cleveland, the place is properly named, in his honor, 'Ransom'."
The venture was short-lived. The smelter was poorly constructed and did not work satisfactorily; their explorations did not prove rich enough in copper to justify working, and in 1849 the company left the island and located just east of Houghton on Portage Lake. Fire destroyed the mining buildings at Ransom in 1866. Ransom was subsequently the site of a sawmill, a garden supplying vegetables for Rock Harbor Lodge, a CCC Camp, and today is the location of Daisy Farm Lakeside Camp.
Image Gallery
Citation:
Rakestraw, L., United States., & Isle Royale Natural History Association. (1965). Historic mining on Isle Royale. Houghton, Mich.: Isle Royale Natural History Association in cooperation with the National Park Service.