Zuris/Seifert Camp
Tobin Harbor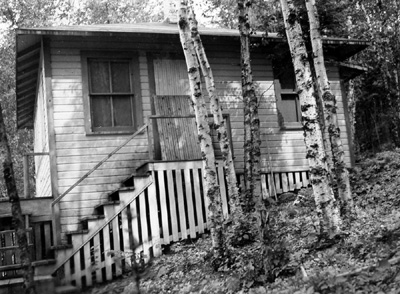 Seifert Cottage, 1935: Wolbrink [Sheet 030, Photo C], ISRO Archives.
O
riginally owned by John T. Zuris, the Seifert cottage was constructed in 1920. Zuris, a former attorney turned municipal court judge, hailed from Chicago, Illinois. Robert G. and Frittzi Seifert, of Lima, Ohio, first came to Isle Royale in 1922. On June 22, 1926, Frittzi Seifert purchased the one-quarter acre parcel from Mr. Zuris. The Seiferts were members of the Isle Royale Protective Association, and were in favor of the island becomming a national park. Following the establishment of Isle Royale National Park, the Seiferts transferred the property to the United States with a life lease and $302.07 in consideration. The life lease was signed Jan. 18, 1939.
By 1941 Robert Seifert inquired about selling back his life lease to the government. Superintendent Baggley rejected his repeated inquiries saying that the Federal Government was not purchasing life leases. The Seiferts had a caretaker named Dr. William Sturges who, along with his wife, performed maintenance on the cabins.
Use of the property under the lease was infrequent. Frittzi Seifert died June 9, 1993 and control of the cabin reverted to the government. There are no children eligible for a special use permit.
Status
The Siefert Camp has four surviving structures: a cottage, storage building, privy and crib dock ruin; all of which but the crib dock ruin have high integrity. The Siefert cottage (HS291) is in fair condition and the other structures are in good condition.
Image Gallery
Are you related to this family? Would you be willing to share stories or photos associated with related events? If so, we would love to hear from you! Please contact the Cultural Resource Manager at Isle Royale National Park. Or write to:

Isle Royale National Park
800 East Lakeshore Drive
Houghton, Michigan 49931-1896
906-482-0984
Citations
Franks, Kathryn E. and Arnold R. Alanen, 1999. Historic Structures at Isle Royale National Park: Historic Contexts and Associated Property Types. Department of Landscape Architecture, University of Wisconsin-Madison, January 1999.


Newland, Dave. 2003. Executive Summary of the Seifert Life Lease. Isle Royale National Park. Houghton, MI.