Emerson Camp
Tobin Harbor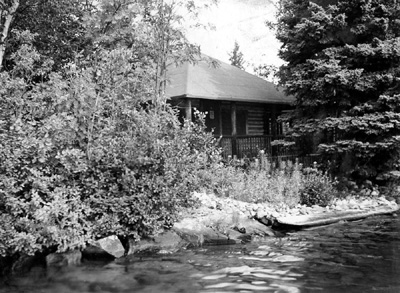 Emerson Cottage, 1935: Wolbrink [Sheet 034, Photo B], ISRO Archives.
R
alph W. and Jane D. Emerson, of Omaha, Nebraska, owned 0.13 acres of land in Tobin Harbor. Ralph was a relative of the famous essayist, lecturer, and poet Ralph Waldo Emerson. The main cottage was constructed in 1908. Other structures once existing on the property include a pagoda, boathouse, woodhouse, oil/gas house, privy, tool house, and numerous docks. Ralph Emerson passed away and outlined in his will that the island would go to his wife Jane and then her step-son Horace P. Emerson. During negotiations, the Emerson's agreed to a higher purchase price for their property over a life lease. The sale was finalized on September 19, 1938. While the Emerson's did not accept a life lease, they favored establishment of Isle Royale National Park. All structures remaining on the property were removed in 1954.
Image Gallery
Are you related to this family? Would you be willing to share stories or photos associated with related events? If so, we would love to hear from you! Please contact the Cultural Resource Manager at Isle Royale National Park. Or write to:

Isle Royale National Park
800 East Lakeshore Drive
Houghton, Michigan 49931-1896
906-482-0984
Citations
Emerson Purchase Records. Isle Royale National Park. Houghton, MI.