Edwards Camp
Tobin Harbor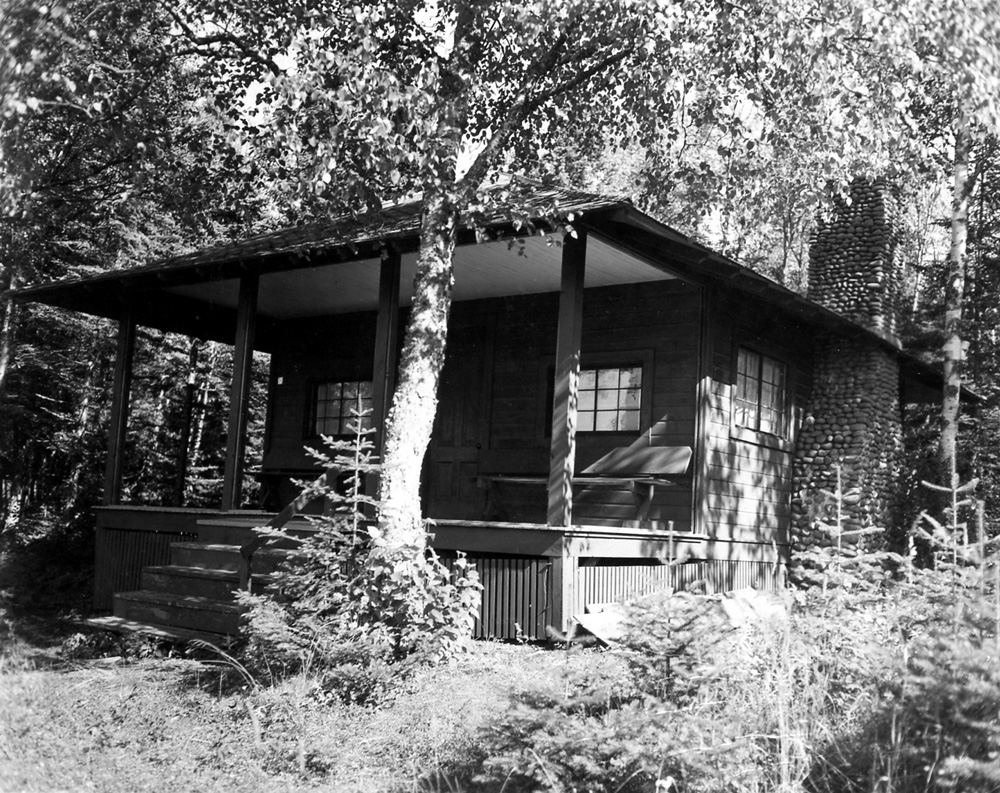 Edwards Cottage, 1950s: [NVIC: 50-1010], ISRO Archives.
T
he Reverend Maurice D. Edwards, a Presbyterian minister in St. Paul, and his family, were among the first to establish a summer residence in Tobin Harbor. The Edward's Camp was established in 1912, though they were known to have visited the island since at least 1902. The Edwards family owned two islands in Tobin Harbor.
Transfer of the islands to the U.S. was accomplished in two stages. First, on Nov. 28, 1938 Edwards Island, the larger of the two at 24.43 acres was given to the U.S. for $471.06 and a life lease for Annie D. and Richard Edwards as consideration. Richard Edwards turned 21 December 30, 1937. Next, August 1, 1939, Gem Island at .24 acres was transferred in exchange for $1 and a life lease for Robert L., Deane, Margaret, and Annie L. Edwards.
In 1979, Mary Parke Edwards Manning, sister of Richard Edwards and daughter of Deane Edwards, requested a Special Use Permit for both islands. She was only 16 when the leases were signed and she indicates that her father would have added her to both leases if he has known it was possible. She was deemed eligible for a permit for both Islands, although the Edwards request to have all of the lessees on the Gem Island also added to the Edwards Island lease was denied. Mary Parke Edwards Manning is the only child eligible for a Special Use Permit on either island.
Status
The Edwards Camp is the last of the original Life Leases properties, which remains valid under Mary Parke Manning, daughter of Deane Edwards. Richard Edwards passed away in early 2016. Professors Joan Edwards and David Smith use the Edwards Camp as a base for their respective research projects.
The Edwards Camp retains five buildings: a cottage, dining room, privy, storehouse, all of which are in good condition, and have high degree of integrity in all areas except for setting, which has medium integrity due to the overgrowth of vegetation. "The Gem," (#575) is a 10' x 15' cottage associated with the Edwards Camp, and is on its own small island near Edwards Island. It is also in good condition, and has high integrity in all areas but feeling, location, setting, and association, which are medium due to overgrown vegetation.
Image Gallery
Are you related to this family? Would you be willing to share stories or photos associated with related events? If so, we would love to hear from you! Please contact the Cultural Resource Manager at Isle Royale National Park. Or write to:

Isle Royale National Park
800 East Lakeshore Drive
Houghton, Michigan 49931-1896
906-482-0984
Citations
Franks, Kathryn E. and Arnold R. Alanen, 1999. Historic Structures at Isle Royale National Park: Historic Contexts and Associated Property Types. Department of Landscape Architecture, University of Wisconsin-Madison, January 1999.


Newland, Dave. 2003. Executive Summary of the Edwards Life Lease. Isle Royale National Park. Houghton, MI.