Obert/Hans Mindestrom
Little Boat Harbor
By: Toupal, Stoffie, and Zedeno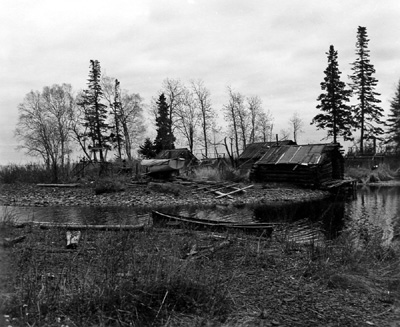 Mindestrom Residence, 1948: Humberger [NVIC: 40-236], ISRO Archives.
A
bout one mile south of Fisherman's Home lies a small bay and inlet known as Small or Little Boat Harbor. Used exclusively by Hans Mindestrom, this site includes the boulder gravel beach of the inlet from the north point to the south point, and the fishing area that runs south along the shoreline about a mile and a half to the McCormick Reef area. A small fishery, it is approximately two miles long, running a half mile north, and up to one mile wide. Shallow reefs made the site viable as a fish camp.
"If it wasn't for the fact that there were good fishing grounds here, somebody would probably have never even inhabited this place because it was so difficult to get in and out of in stormy conditions. This whole area, the ledge rock out here, extends...there's a very shallow, barrier reef that extends between this point here (north) and this point here (south). So that there's probably only, depending on the lake level, there would probably be 6' maximum water to get in there and maybe 3' minimum, probably isn't more than 3 and a half or 4' of water to access in here. So when this harbor was open it was virtually inaccessible except by very small boats."
An interesting aspect of this fishery is its proximity to and overlap with the Fisherman's Home fishery during the same period. The relationship between the Rude family and Hans developed into that of an extended family. A land trail and water route connected the two sites. Andrea Rude, wife of Andrew and mother of Sam, often rowed and fished the five-mile round trip from Fisherman's Home to McCormick's Reef. She tied a line to her foot so she could fish while she rowed. On her return trip, she often stopped at Hans' place for the "wonderful homemade bread" he made.
When the weather was bad, Hans would leave his boat at Fisherman's Home and walk to Little Boat Harbor. If the market boat was expected at such times, he would leave his catch at Fisherman's Home where it could be picked up easily. He also left his boat at Fisherman's Home during the winter months when he returned to Knife River, Minnesota.
The remains of Hans' cabin can still be found under a large spruce tree that has grown up so close beside it that the lower branches have to be raised to sheltering the cabin remains, prevents the logs and duff from drying out, consequently, enhancing the rotting of the logs. Other remains of the fish camp include some scales, metal canisters of unknown purpose, and the capstan Hans used to pull his boat out of the water.
Unlike many of the other fish camps around Isle Royale, Little Boat Harbor appears to have been occupied only by Hans Mindestrom during the Scandinavian folk fishing period. Other fishermen respected his rights and did not use the area "because these sets belonged to Hans." All of the buildings, of which there is any trace, were built by Hans, further suggesting his sole residency since the late 1800s.
Although this site is one of the lesser known, less popular places on the Island, Hans Mindestrom's story is one of individual stamina and perseverance that epitomizes the Scandinavian fisherman's relationship with the Island. The hardships he faced throughout his life, the relationships he developed on the Island, and so few people to tell his story suggest that something very important to knowing and understanding the lifestyle and culture of the Scandinavian folk fishermen is about to be lost.
"Because he had no family, he had no children, he was never married, when he left Little Boat Harbor, it was during a period of time when I think cultural history or heritage were certainly not one of the points of focus of the Park Service. So Hans Mindestrom and Boat Harbor were largely forgotten as those that knew him died off; there was nobody to really make any attempt to keep anything at Boat Harbor updated or to maintain it in any way. And it just kind of fell by the wayside, slipped through the cracks."
Hans' stamina, perseverance, and kindness had other impacts on his neighbors, particularly the children. Hans expressed an incredible kindness toward the wildlife and was known to "not chase a snake out of his house. He once saved a pet crow (from the) water that was too young to fly." Such activities as climbing the hill behind his cabin, and the walk along the rock-floored forest between Little Boat Harbor and Fisherman's Home are all the more incredible in light of Hans' disability. For those who knew Hans' story, his actions provided many life lessons that they remember to this day.
Well, there's a life lesson...he was a life lesson in himself, born with severe, significant deformity in his feet, going through a childhood that, in which he was, in which his father certainly showed no love or respect. He was able to come out here and build a life for himself and exist ...I don't know what thoughts Hans may have had when he was by himself but when he was down visiting with (neighboring families) he laughed and told stories and he was just a wonderful (person). He grew up in a time when physical impairments were, there certainly were no ramps or anything else to try to help the physically challenged so he, he was able to overcome his particular deformity. He couldn't buy shoes so he made his own shoes. I think he certainly is a lesson in perseverance. The only bitterness that his neighbors remembered and repeated often was that he showed extreme bitterness towards his father for his lack of compassion. "Because of Hans' deformity. But he himself was a very compassionate person. I think probably the extreme bitter experience of him growing up...his very, very bad experience with his father, lack of compassion, probably made him more compassionate. He did not want to ever be perceived the way, personally, the way he perceived his father.
Hans Mindestrom's kindness and perseverance had a "great, positive influence" on the lives of those who knew him. Returning to Little Boat Harbor keeps memories of Hans and his relationship with the Rude family and others alive for those who knew him. Friends of former fishermen also like to visit Little Boat Harbor, especially on stormy days when they cannot fish but can walk down to the site. Even those who do not know about Hans or the history of the place seem to find the artifacts and the site interesting, if not intriguing, since paddlers are known to frequent the site.
Image Gallery
Are you related to this family? Would you be willing to share stories or photos associated with related events? If so, we would love to hear from you! Please contact the Cultural Resource Manager at Isle Royale National Park. Or write to:

Isle Royale National Park
800 East Lakeshore Drive
Houghton, Michigan 49931-1896
906-482-0984
Citations
Toupal, Rebecca S., Richard W. Stoffie, and M. Nieves Zedeno. The Isle Royale Folkefiskerisamfunn: Familier som levde av fiske: An Ethnohistory of the Scandinavian Folk Fishermen of Isle Royale National Park. Report for the National Park Service, Midwest Regional Office. Tucson: Bureau of Applied Research in Anthropology, University of Arizona, 2002.