Stack/Wolbrink Camp
Tobin Harbor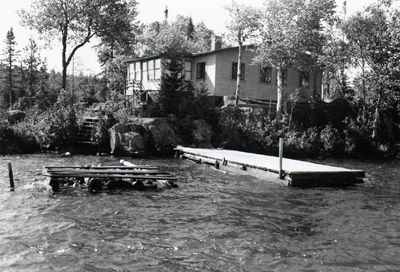 Stack Cottage: NVIC: 50-1170, ISRO Archives.
Update Required
To play the media you will need to either update your browser to a recent version or update your
Flash plugin
.
Oral History 43: Stack/Wolbrink Interview, August 1983, Carol Maass: ISRO Archives.
T
he Stack/Wolbrink Camp, located on Minong Island, is a good example of an early 20th century wealthy Midwesterner's private wilderness camp as a retreat that provided conveniences and sophisticated surroundings in a wilderness setting. The original owner, civil war veteran General John Roberts, began resorting at Tobin Harbor around 1900. In 1919 Mr. Stack began to rent a house on Minong Point of Margaret's Island. He called the place "Bonnie Lock Hame" a Scottish name. The Stacks lived next door to the H.L. Beard family, who summered on Isle Royale, as did Mr. Beard's sister, Mrs. "Omaha" Smith. The Stacks, Beards and Smiths spent their summers together in Tobin Harbor. The Stacks summered on Isle Royale each summer for about six weeks and first rented the Roberts' cottage, which was owned by R.W. Emerson, a relative of American essayist, lecturer, and poet Ralph Waldo Emerson, in 1920. In 1926 Mr. Stack purchased the land. He died in 1929. In 1937 Florence C. Stack, his wife and her daughter Florence T. Stack (who was 21 years of age) took a life lease and $152.95 for the property. The lease was signed July 14, 1938.
Donald Wolbrink, Florence T. Stack's husband, began to handle the details of the property. He hired men to do the work - roofing, new supports for the house, painting - and never asked the park service to do anything other than help to find someone to do the labor all of this while the Wolbrinks lived in Hawaii. Mr. Wolbrink was very interested in the history of the property and worked with David Snyder, park historian, in the late 1980s to compile information on the house and especially on General John N. Roberts of Lawrence Kansas.
"One thing that Florence and I feel strongly about with abhorrence is the benign neglect policy. I get the willies just thinking about the idea of a deteriorating house in ruins. Better that it be burned and the Minong Point restored to wilderness, than to have a rotted hulk sitting there". --Donald Wolbrink: March 10, 1988.
In the late 1980s Mr. Wolbrink indicated that he and his wife Florence would be in favor of the house being preserved as an example of the resort era after they had passed and the lease reverted to the government.
Status
Today, the Stack/Wolbrink Camp has four surviving structures: a cottage, guest house, privy and stone retaining wall. The structures all have high integrity and are in good condition.
There are no children eligible for Special Use Permits.
Image Gallery
Are you related to this family? Would you be willing to share stories or photos associated with related events? If so, we would love to hear from you! Please contact the Cultural Resource Manager at Isle Royale National Park. Or write to:

Isle Royale National Park
800 East Lakeshore Drive
Houghton, Michigan 49931-1896
906-482-0984
Citations
Newland, Dave. 2003. Executive Summary of the Stack Life Lease. Isle Royale National Park. Houghton, MI.