Breen/Snell Camp
Tobin Harbor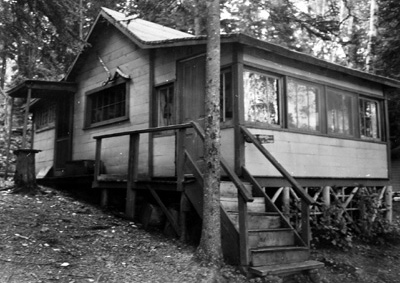 Snell Cottage: NVIC: 50-1165, ISRO Archives.
Update Required
To play the media you will need to either update your browser to a recent version or update your
Flash plugin
.
Oral History 36: J. Laurie Snell, September 1982, Carol Maass: ISRO Archives.
T
he Breen/Snell property was originally part of a larger stretch of land owned by Edward T. Scoville et al, which was a vestige of the old Scoville mine interests. Purchase records indicate that the Scoville group sold a portion of their lands to Faustina Libby Breen on December 21, 1921. There was no mention of any improvements on the property at this time and we presume that no structures were built at this location until 1922, the summer following the December purchase. Art Mattson reportedly constructed the original cottage, which was the only structure on site during the Breen era. The Breen story on Isle Royale remains a bit murky, but we do know the family was based in Duluth. Faustina was married to William Henry Breen and they had several children. William died in December of 1939, which corresponds with the closing of most island purchases be they outright sales or life lease agreements. Faustina would have been in her mid-60s at the time of island buyouts and records indicate that she was behind on property taxes for her summer cottage location. Such situations complicated the buyout process and it is likely that this had some influence on her decision to sell to Roy Snell, who was looking for a Life Lease option and was willing to complete the necessary paperwork to clear the taxes owed and that associated with ultimate sale to the Isle Royale Commission.
Roy, Lucille and their three boys, Jud, John and Laurie spent summers at Isle Royale starting in 1932, one year after Congress past enabling legislation for Isle Royale National Park. The Snell family, like many other island visitors, sought to escape the summer heat and find relief from asthma. They rented a cottage in Rock Harbor and then in Tobin Harbor.
During this time the Snell's became aware of life-lease agreements being offered to existing island property owners. Roy engaged the Park's land purchasing agent E.G. Willemin about acquiring an existing property from an owner before they sold to the Park themselves. Willemin, who was trying to acquire properties at a reduced value seemed OK with this proposition and worked with Snell to identify a specific property that might be available for immediate purchase. Following said purchase Snell would sell to the government at reduced price in return for a life-lease. Such properties were few and far between as many purchase agreements were already in the works at this time while others were stalled in courts due to arrears with county tax office. Roy and Lucille Snell ultimately settled on the property owned by Faustina Breen of Duluth. Mrs. Snell had hoped for a separate Tobin Harbor property, one owned by Andrew Carlson, which was located northeast of the Mattson Fishery. However, the Carlson property was already under a purchase agreement with the Isle Royale Commission. The Breen cabin was purchased in 1936 and promptly sold to the federal government for $1 in return for a life-lease. The cabin at that time consisted of two rooms; the living room with extended porch and the kitchen.
The writing shack was built in the late 30's or early 40's. With three boys Jud, John and Laurie they needed more room so the boys slept in a tent on a wooden platform. A sleeping room was added using a small cottage appropriated from the old resort on Minong Island. The cabin was disassembled and then integrated into the main Breen cottage. The guesthouse was created in the same manner. Snell's writing cabin was where Roy wrote two of his 84 books that take place on Isle Royale: The Galloping Ghost and the Phantom Violin and the radio dialogue for "Jack Armstrong, all American boy" for one summer.
Life Lease
An interesting fact is that the Snell family was the first of the island residents to have minor children added to their lease agreement. Initially, George Baggley did not want to grant the lease to the minor children.
"This is the first case at Isle Royale involving a life lease being issued to minors. If the vendors are of about middle age I would concur in a lease to them, however, their children are now quite young and this would tie up the property for as many as 50 years. It is recommended that this not be accepted and that further negotiations be carried on without the provision of a life lease to minors." --Superintendant George Baggley
A.E. Demaray, Associate Director NPS, informed Baggley that children do not always outlive their parents and that the park is very interested in having the land donated and the children are grantors of the property so the children will need to be on the lease. Having the children on the lease did require some extra work such as preparing two deeds to be signed (one by children's guardian) but the task did not seem to overwhelm E.G. Willemin, land purchaser. Willemin would later site the difficulty of adding minors to the property as a way to discourage others from doing what the Snells did, however, it seems that the amount of time required (rather than the difficulty) as well Baggley's stance on the subject were more important factors contributing to Willemin's discouraging property owners from adding minors to leases.
Families
The Snell Family consists of Roy, Lucille and sons, Jud, John and Laurie, and their children and grandchildren. Jud married Marjorie and they had four children: Teri, Greg, Roy and Cindy. Teri and her husband Bob had three girls: Emily, Jennifer and Molly. Greg married Jan and had two children: Tim and Gina. Deb is his wife now. Roy married Julie and they had four girls: Jessica, Abbie, Anna and Erin. Cindy married Tom and they had three children: Lindsy, John and Tom. She is now married to Scott. Jennifer and her husband Tim come to the island with their two children: Fritz and Bea. John Snell married Jeanne and they had three girls: Susan, Kathy and Nancy. Kathy married D and they had three children, Crystal, Don and Scotta. Crystal married P and they have Noam. Laurie married Joan and they had two children: John and Mary Paige. John married Janet and they had two girls: Molly and Savannah. Snells have been on the island for more than 80 years.
Roy J. Snell: Galloping Ghost
Roy was an adventurer, author and lecturer. He received his theology degree from the Chicago Theological Seminary, his masters at the University of Chicago. He served as a superintendent of a mission in Cape Prince of Wales Alaska in 1910. He served as a missionary in WWI for the YWCA. He returned home and married Lucille in 1919. Roy wrote his first book Little White Fox in 1916. He wrote most of his life and did lecture series in schools in Detroit and Des Moines for school children. He showed colored slides of his adventures and his experiences on Isle Royale to promote this beautiful place. In 1938, Roy was featured on Edgar Guest's radio show "This is my life".
Lucile was a concert pianist and attended the New England Conservatory of Music. She taught at several universities until her marriage. She gave music lessons and made doll clothes and taught her three boys piano, cello and violin. She suffered from asthma, which led them to find respite in the north especially in the summers. Before they discovered Isle Royale the Snells spent summers in Hessel, Michigan. Jud was a businessman, John a Navy pilot, concert violinist, salesman, and engineer, and Laurie a mathematics professor at Dartmouth College.
Status
The Snell Camp is still present in Tobin Harbor and is actively maintained by descendants of Roy Snell. All Snell life leases have expired and no children are eligible for Special Use Permits. Since 2012, family members have been maintaining the Snell Camp and related buildings under an annual Volunteer-In-Parks permit.
The camp has four surviving structures: a cottage, guesthouse, storehouse, a "writing shack," and a dock and stair with rail - all of which but the writing shack have a high degree of historic integrity in all areas. The cottage and guesthouse are in good condition, the storehouse is in fair condition, but the writing shack is in poor condition.
Image Gallery
Are you related to this family? Would you be willing to share stories or photos associated with related events? If so, we would love to hear from you! Please contact the Cultural Resource Manager at Isle Royale National Park. Or write to:

Isle Royale National Park
800 East Lakeshore Drive
Houghton, Michigan 49931-1896
906-482-0984
Citations
Franks, Kathryn E. and Arnold R. Alanen, 1999. Historic Structures at Isle Royale National Park: Historic Contexts and Associated Property Types. Department of Landscape Architecture, University of Wisconsin-Madison, January 1999.


Newland, Dave. 2003. Executive Summary of the Snell Life Lease. Isle Royale National Park. Houghton, MI.


Snell Cabin & Family History. 2015. Houghton, Michigan. Provided by Teri Power and Peg Gale.