Musselman Camp
Tobin Harbor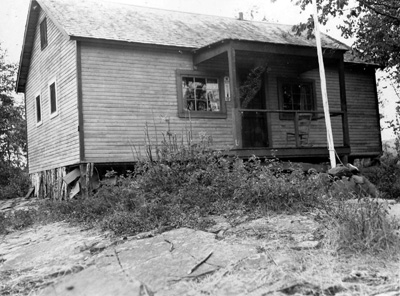 Musselman Cottage, 1935: Wolbrink [Sheet 035, Photo C], ISRO Archives.
W
illiam and Grace Musselman of Glen Ellen, Illinois, occupied a small island northeast of Merritt Island in Tobin Harbor. All structures including a cottage, privy, and dock were removed shortly after federal purchase. The Musselman's did not receive a life lease in exchange for their property. It is unclear whether the property was sold outright or acquired through condemnation. The NPS removed the main cottage, privy, and a dock sometime after receiving the property. Little else is known about the Musselman family or their time spent on Isle Royale.
Image Gallery
Are you related to this family? Would you be willing to share stories or photos associated with related events? If so, we would love to hear from you! Please contact the Cultural Resource Manager at Isle Royale National Park. Or write to:

Isle Royale National Park
800 East Lakeshore Drive
Houghton, Michigan 49931-1896
906-482-0984
Citations
Newland, Dave. 2003. Executive Summary of the Musselman Life Lease. Isle Royale National Park. Houghton, MI.