Sigismund/Underwood/Kemmer Camp
Tobin Harbor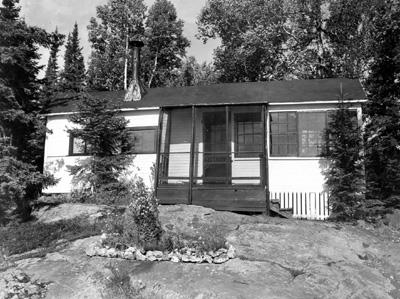 Underwood/Kemmer Cottage: NVIC: 50-1132, ISRO Archives.
E
lizabeth Kemmer, affectionately known as "E.K.", died July 6, 1987 at the age of 94. E.K. had first come to Isle Royale in 1928 to visit her aunt Elizabeth Underwood. Miss Kemmer, a St. Paul native, taught school there for twenty years. Miss Kemmer fell in love with the Island. She decided to purchase the cottage, along with Miss Underwood, that Miss Underwood had been renting a number of years. Records suggest that the cottage was built between 1919 and 1921 by Gustav Sigismund, who squatted previously on Tallman Island as late as 1915. E.K. mentions in Island Folk that the franklin stove in her cottage had provided warmth for sixty years. Since Island Folk was written in 1979, that would date the cottage to 1919. In another reference, a 1937 letter from NPS land purchaser E.G. Willemin to NPS Assistant Director G.A. Moskey states that the two women had the two buildings and their outbuildings ..."in their open and peaceable possession for over 15 years last past." This would date the buildings to 1921.
An option to sell the property for $1.00 and a life-lease was accepted by the Isle Royale National Park Commission of Michigan on July 31, 1937. It is ironic that the two women didn't have clear title to the land for which they wanted the lease. Miss Underwood owned a two acre, unimproved parcel, located two miles away in Tobin Harbor. The property their improvements were on had been "purchased" from a squatter, from whom they'd rented. Because he was a squatter, they did not have a good deed. The two different parcels proved confusing to the land acquisition agent. When finally straightened out, the government provided a life-lease on the smaller, 1 acre, improved parcel in exchange for the sale of the unimproved, 2 acre, parcel. The property description of their lease is the "easterly 132 feet of the south 462 feet of Lot 1, Section 34, T67N, R33W; containing 1 acre more or less."
A letter to Secretary Harry F. Harper, Isle Royale National Park Commission of Michigan from Land Purchaser Willemin details how bewildering the government negotiations probably were to the two women.
Underwood died in 1942 but this information was not known by the park service until 1965. Kemmer continued to come to the island until 1982. In 1952, Kemmer paid to have new dock built by the park service. Several letters between E.K. and the Superintendent deal with beavers or her dock. Eventually her dock was replaced, although it's not recorded whether the park replaced it or if Art Mattson or someone else built it.
Two other letters written between Superintendent Beattie and E.K. in November of 1972 and January of 1973 indicated that her cottage and guest house had been broken into in September of 1972. She replied that her insurance covered no vandalism. Inez Mattson would clean the mess up for her. She would have to find someone to fix her damaged doors.
Other correspondence in the files indicated that a chimney fire had caused considerable smoke damage in the 1950's. Art Mattson repaired her home after that fire.
Her house was enlarged, almost doubled, in the early 1960's by Art Mattson.
Miss Kemmer last visited Isle Royale in 1982. While there, she became ill and was flown into Houghton. Dr. Gale gave her assistance. Due to the island's remote location, Kemmer never returned after this emergency. In the following years, acquaintances of hers, Chuck and Betsy Boyle, of Marinette, WI, stayed at her home. Miss Kemmer had no children. It is understood that Boyles purchased her household goods for $1,000. Personal effects such as photograph albums, etc. were left to Grant Merritt. At the time of her death, Superintendent Tom Hobbs notified the Boyles that they could stay at the Kemmer cottage through the summer of 1987, but then they would have to remove the household goods. They would not be allowed to occupy the home in 1988.
E.K.'s home and outbuildings are a part of the resort hey-day on Isle Royale which occurred between the turn-of-the-century and the mid-1930's. E.K. is remembered as a warm, loving person.
Status
The Kemmer Camp has six surviving structures: these include a residence, guesthouse, storehouse, boathouse, privy, dock, concrete steps, and a peeled pole rail. The buildings are currently used as park housing, and the site has been upgraded with solar power, a water pump, and a modern, floating dock. The structures retain high integrity in all areas, although the storehouse is in fair condition and has medium integrity of material due to deterioration.
Image Gallery
Are you related to this family? Would you be willing to share stories or photos associated with related events? If so, we would love to hear from you! Please contact the Cultural Resource Manager at Isle Royale National Park. Or write to:

Isle Royale National Park
800 East Lakeshore Drive
Houghton, Michigan 49931-1896
906-482-0984
Citations
Franks, Kathryn E. and Arnold R. Alanen, 1999. Historic Structures at Isle Royale National Park: Historic Contexts and Associated Property Types. Department of Landscape Architecture, University of Wisconsin-Madison, January 1999.


Newland, Dave. 2003. Executive Summary of the Kemmer and Underwood Life Lease. Isle Royale National Park. Houghton, MI.


Snyder, Dave. 1987. List of Classified Structures Update - Significance Bldg. #272. Isle Royale National Park Archives.