Connolly Camp
Tobin Harbor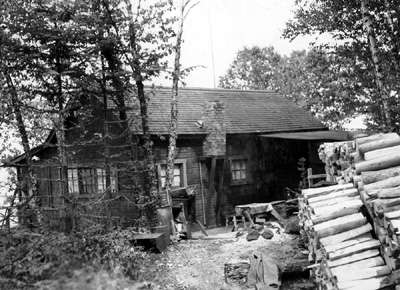 Connolly Cottage, 1935: Wolbrink [Sheet 030, Photo D], ISRO Archives.
C
harles P. Connolly, of Rockford, Illinois, purchased his property in Tobin Harbor from C.F.W. Dassler in 1914. During the time the Connolly's owned the property, a main cottage, guesthouse, boathouse, dock, and privy were constructed on the property. Connolly was overall favorable of a National Park at Isle Royale and had interest in a life lease for his family in exchange for the property. Like many other summer residents owning land on Isle Royale, Connolly transferred title on the property to his younger descendants and their spouses Sarah and Paul Caskey, James Lawrence, Sr. and C. David Connolly. On Nov. 12, 1935, C. David Connolly signaled the willingness of these joint owners of the land to transfer title to the government if the expense of the transfer was borne by the government and if the minor children James A Lawrence, Jr., Carol F. Lawrence and David H. Caskey would be included on the lease along with the four adult owners.
Status
At least two descendants of Connolly were deemed elligible for Special Use Permits upon the property. Today, a main cottage, guesthouse, and a privy are extant and are contributing features of the cultural landscape.
Image Gallery
Are you related to this family? Would you be willing to share stories or photos associated with related events? If so, we would love to hear from you! Please contact the Cultural Resource Manager at Isle Royale National Park. Or write to:

Isle Royale National Park
800 East Lakeshore Drive
Houghton, Michigan 49931-1896
906-482-0984
Citations
Newland, Dave. 2003. Executive Summary of the Connolly Life Lease. Isle Royale National Park. Houghton, MI.