Mattson's / Tobin Harbor Resort / Minong Lodge
History
By: Philip Scarpino, 2010.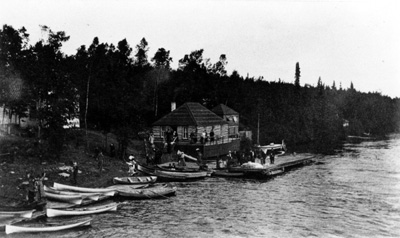 Mattson's Resort, 1905: Dassler Collection, ISRO Archives.
B
y 1900, Gus Mattson, who had a fishing station in Tobin Harbor was renting rooms to sportsmen, while his wife cooked meals. He was one of several in the fishing industry who saw a further business opportunity in recreation and tourism. Mattson owned boats he could rent for fishing or sightseeing.
In 1906, Mattson sold his business to Fred K. Guck, W.H. Faucett, and G. Martini, all of Calumet, Michigan. The new owners changed the name to Tobin Harbor Resort and built additional facilities to augment what they had purchased from Mattson. Their resort had wood framed sleeping cottages and a log cabin dining room with a sitting room. Martini, Faucett, and Guck published a multipage brochure to advertise their resort. The brochure offers guests rest and recreation and promises that those who "have tasted of the happiness" "have left Tobin's Harbor with better and brighter minds, finer physical condition and a renewed general health which years of physicians' care and attention could not bring about."
Renamed Minong Lodge in the early 1930s, the resort in Tobin Harbor remained a rustic-type retreat and the center of the Tobin Harbor community, which included the resort's guests, summer residents, and fishing families. Tobin Harbor became a busy and crowded place. Boat days attracted summer residents for supplies and mail. Regatta Day, held in the 1920s and 1930s drew large crowds to the resort's sturdy and spacious dock. Richard Edwards, born in 1916, spent parts of several summers during his pre-teen and teenaged years at his family camp on Edwards Island off the mouth of Tobin Harbor. Edwards described the Tobin Harbor resort as "a real center of our social life," and "a kind of focal point for social life." His father and grandfather were both ministers, and they held Sunday evening services in the common area of the hotel. The family often visited on boat days, which he remembered as a big day for getting together and socializing. Fishermen like the Mattsons would bring their fish to the boat and take delivery of ice. The Minong facility remained in business until the late 1930s when the National Park Service bought out the last owners, Helena Smith and her daughter, Grace, and closed the resort.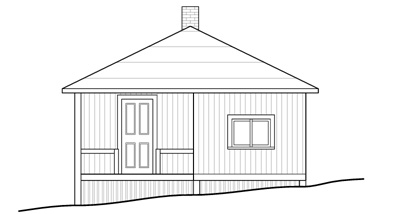 Last remaining structure of the Minong Lodge complex, 2013: Tim Sickles.
The Minong Lodge buildings that comprised the main part of the complex, already in structural decline, were removed by the NPS in 1953. A new structure, known as the "post office" or "mail house" was constructed by the NPS using salvaged CCC sections from the Windigo CCC camp.
The Minong Lodge Cabin, located on Minong Island, is the only remaining cabin of the Minong Lodge complex. Built circa 1914-1925, it is a one-story, three-room structure with a hipped roof and central brick chimney. The ruin of an associated privy is nearby.
Image Gallery
Media Gallery
Tobin's Harbor Resort: ACC#ISRO-00242, Cat#ISRO 898, Resort History, ISRO Archives.
Citations
Scarpino, Philip. 2010. Cultural Resources on Isle Royale National Park: An Historic Context. Unpublished Manuscript. Pp. 108. Print.


National Park Service Cultural Landscapes Inventory - Tobin Harbor. 2010. Park Historic Architecture and Cultural Landscapes Program, U.S. National Park Service. Pp. 125. Print.