Park Place / Rock Harbor Lodge
History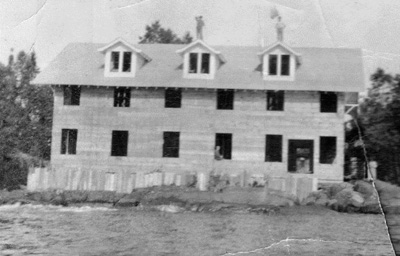 Park Place, Rock Harbor: Farmer Collection, ISRO Archives.
O
n a less modest scale was Kneut Kneutson's resort. Circa 1900 Kneutson developed Park Place, (later renamed the Rock Harbor Lodge) on the southeastern end of Isle Royale in Rock Harbor. Kneutson purchased a block of land in what he named "Snug Harbor," and platted out streets and house lots. "With the help of his son, Kneutson built several small cottages, a central dining room, and cleared an area for tents. By 1902, Kneutson boasted that his resort could accommodate 50 people, as long as they did not mind bringing their own tents. Kneutson's resort enjoyed modest success and several families annually spent part of their summer at Snug Harbor, and several private cabins were built on lots near Park Place." [3] Like the other early fishermen's resorts, in its beginnings Park Place was a modest, rustic operation.
Kneutson's Park Place had suffered from the neglect of the indifferent managers he had hired to run the resort while he was away during the First World War. The resort was renamed Rock Harbor Lodge, and in 1920 Kneutson realized he would need to make improvements, or the Rock Harbor Lodge would soon fail. Kneutson eventually allowed Mrs. Bertha Farmer, his daughter, to run the lodge.
The Rock Harbor Lodge thrived under Bertha Farmer's management. She insisted that her father modernize the lodge, and by 1922, construction began on the Craftsman style guesthouse. It was a two-story wood frame structure, built on the rocks that overlooked Lake Superior. Painted bright white, the building became the most prominent landmark in Rock Harbor. The guesthouse had 16 rooms, each equipped with electric lights, and sinks with hot and cold running water. Indoor flush toilets were convenient to each room. Many guests opted to stay in the small one-room cottages, but the guesthouse was the preferred choice among Rock Harbor resorters.
Under Bertha Farmer's dedicated management, the Rock Harbor Lodge adopted a more "refined" lodge atmosphere. Employees were asked not to socialize with guests. Social dances and berry picking or greenstone gathering expeditions were scheduled activities, tennis courts were added, and Bertha had her entire family working at the lodge. Her father "Commodore" Kneutson would spin stories about the early days of Isle Royale, and would occasionally lead a boating excursion to a special spot or fishing hole. Bertha also enlisted the skills of Indian guide John Linklater, who took lodge guests on excursions to the old Minong Mine site at McCargoe Cove. The guests were then treated to an overnight at Linklater's fishery at Birch Island, where they slept in tents and used fir boughs as bedding.[4]
Rock Harbor Lodge and Belle Isle became the new standard of Isle Royale resorts during the 1920s. Although the Tobin Harbor Resort (or Minong Lodge, as it was renamed in the 1930s) had the same rustic beginnings as the Rock Harbor Lodge, it did not offer any of the recreational opportunities that the other two provided. The Minong Lodge had no modern sanitation features, either. The lack of facilities at the lodge was advertised almost as an advantage: "One of the most delightful things, though, about Minong Lodge is you can do as you please."[5]
The new Rock Harbor Lodge provided stiff competition for the Belle Isle Resort. One of the Rock Harbor Lodge's greatest advantages was that its dock could accommodate large vessels-even the three-hundred-and-twenty-one foot South American, the largest passenger ship on Lake Superior. Most scheduled steamers stepped at Port Arthur (currently Thunder Bay), Ontario, however, before making their stops at Isle Royale. This gave the Belle Isle Resort an advantage, in that it was the first resort visited on the island. Fred Schofield tried to make the most of this advantage. A passenger on the America recalled:
In and out we wound among the islands, and suddenly, turning a corner, came upon a pier, a crowd of laughing people dressed like Indians, and back in the trees a group of rustic cottages. This was Belle Isle. There was a bitter rivalry, it seemed, between Belle Isle and the next resort, Tobin's, and as soon as the America docked, feverish proselytizing began among the passengers. A few of those who had planned to go on to other resorts ran for their bags and scuttled ashore just before the plank was hauled in.[6]
Image Gallery
Citations
Franks, Kathryn E. and Arnold R. Alanen, 1999. Historic Structures at Isle Royale National Park: Historic Contexts and Associated Property Types. Department of Landscape Architecture, University of Wisconsin-Madison, January 1999.


Karamanski, Theodore J. and Richard Zeitlin with Joseph Derose. Narrative History of Isle Royale National Park. Mid-American Research Center, Loyola University of Chicago. 1988.


Ibid., citing Duluth Herald, 26 April 1902.


Ibid., citing Rock Harbor Lodge brochure, 1930 and 1932, Mott Island Museum. Isle Rovale National Park.


Ibid., 148, citing Minong Lodge (n.p., 1934); John James Little, "Island Wilderness: A History of Isle Royale National Park," Ph.D, dissertation, University of Toledo, 1978), 16.


Ibid., 149, citing Webb Waldron, We Explore the Great Lakes. New York: Qentury Co.,1923), 99.