Johns Hotel
History
By: Philip Scarpino, 2010.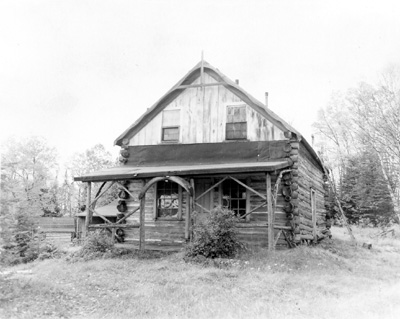 Johns Hotel, 1952: NVIC-50-230, ISRO Archives.
Update Required
To play the media you will need to either update your browser to a recent version or update your
Flash plugin
.
Oral History 01: Edgar Johns, September 1965, Lawrence Rakestraw: ISRO Archives.
T
he Johns Hotel is the oldest surviving building representing the resort era on Isle Royale. It dates to the beginning of the recreation and resort movement when some entrepreneurs first began to exploit Isle Royale's recreational potential. The hotel's accommodations were rustic but consistent with its roots --a new commercial niche developed by an enterprising entrepreneur with connections to the commercial fishing industry. In the mid-1890s, the hotel and its guests shared the Eastern end of Johns Island with an active fishery. Historically, the Johns Hotel is one of the most important, standing buildings related to recreation and tourism on the Island.
John F. Johns had worked in both mining and fishing. In August 1893, A. J. Woolman, representing the International Joint Fisheries Commission, interviewed John Johns on Isle Royale. The interview revealed among other things that Johns lived on an Island at the mouth of Washington Harbor at the "south end of Isle Royale." Johns reported he had resided in the region for sixteen years but had only been fishing for seven years. Mr. Johns was not the only entrepreneur interviewed by the Joint Fisheries Commission in the western end of Lake Superior to see financial opportunity in recreation. Captain C. O. Flynn, Duluth, owned the steamer R. G. Stewart, which in season he ran to Isle Royale once a week to pick up salt fish. Captain Flynn told the interviewer that for the past two years he had been "down around the island a good deal with pleasure parties." Flynn and Johns were co-participants in the developing the incipient recreation movement on Isle Royale. Flynn transported early recreational users to Isle Royale on a vessel he also used to haul salt fish. His passengers were the kind of mainland residents who sought Johns' simple accommodations and the chance to enjoy the comparatively abundant and unspoiled fishery off the western end of Isle Royale.
Image Gallery
Citations
Scarpino, Philip. 2010. Cultural Resources on Isle Royale National Park: An Historic Context. Unpublished Manuscript. Pp. 108. Print.