Washington Island Fisheries
By: Toupal, Stoffie, and Zedeno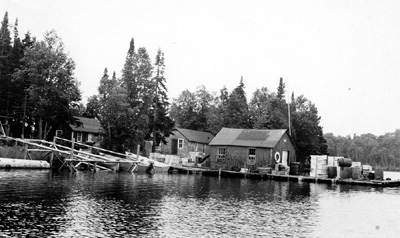 Sam Sivertson Fishery Buildings, 1950: Kurtz [NVIC: 50-107], ISRO Archives.
S
ome of the earliest buildings on Washington Island were built by Sam and Andrew Sivertson, of Norwegian descent, who began fishing at Isle Royale in the early 1890s. Aside from potential Native American use or activities on Washington Island, the Sivertson's were the first commercial fishermen to operate at this location.[1]
In 1902, Washington Island also became the site of one of the first resorts at Isle Royale, established by Captain Walter Singer. Singer purchased a steamer to bring customers to his Washington Harbor resort, the Island House, and built additional vacation cabins and recreational buildings on his property. There are five structures that remain from Singer's resort. Although in close proximity to the Sivertson Fishery, the two were operated separately, and the fishery survived much longer than the resort development. When Singer's Resort finally closed for business commercial fishing activities increased on Washington Island.[1] Many fishermen received permission from Singer to repurpose his former resort buildings for use as fishery buildings. Many of the buildings in the image gallery below are in fact resort buildings that these fishermen repurposed.[1]
As at other fish camps, water was used for fishing-related activities and domestic purposes with one noticeable difference. Possibly as a result of the number of families; the fishermen of Washington Island had a separate dock for each purpose.
"We had water docks. We didn't take the water from the regular docks, but we drank right from the lake. So we had separate water docks where you couldn't park a boat or anything like that. The rowboats used to come, the ladies come to coffee, they'd use the dock, you know. They took their water, in pails from there but, and like I say, they were never used by any boat with a motor. It was always somebody rowing".
Although fishermen, summer residents, and tourists also occupied Rock Harbor, Washington Island was described as a settlement, a collective where people were not alone. There were more resorts, and as many as 20 fishing families lived there in the early 1900s. (Singer's Resort) even had a bowling alley and a dance hall. "Christine and Willie (Williamson) were here before and Hans Peterson was here before (the Eckels). (Sam Sivertson) started out Washington Island, then brothers Carl and Einar Eckmark were here but they fished for (Art Sivertson). Andy Hansen fished here. Gus (Bjorlin) fished for a little bit here. That goes quite a ways back. Maggie (Magnus) Martin's house was here too (before 1928)." While the majority of these fishermen were Norwegian, at least one Swede, John Samskar, fished there as well. Part of the extended Mattson family, Samskar fished next to Stanley Sivertson from 1891-1910.
Some of the Scandinavian fishing families developed more extensive camps than others, but their activities were the same: residences, fishing, occasional hunting, gathering plants for food and construction, and celebrations, particularly the Fourth of July. The location, the closest part of Isle Royale to the mainland, was central to fishing and housing. The numerous small coves and bays, and the amount of shoreline accommodated many fish houses and the related activities. Rabbits, moose, and berries were the primary food plants. An "extra super" raspberry patch was known on a nearby hill. Given the open space at the time, the number of families, and the hotel and resorts, the area was ideal for Saturday night social gatherings and Fourth of July celebrations.
"That was kind of a Thursday thing because Monday they washed, Tuesday they ironed, and Wednesday they mended and Thursday they visited ... they had to do some baking on Wednesday because the ladies were out visiting on Thursday ... always clean on Fridays. Saturday and Sunday, usually Saturday and Sunday didn't make a whole lot of difference. I suppose they probably caught up with what they hadn't gotten done, I don't know. Saturday night, I know, they went down to the dance hall. Down at the end of Singer Island, or Washington Island, was a bowling alley ... uncle played a concertina. One man played a violin and they would play for dancing."
Some families had relatives elsewhere on the Island, but the strongest connection was with Booth Island where the fish were picked up. The fishermen's wives had a water route between the two islands, which they rowed for social purposes.
The Sivertson Fishery is the last to remain in use on the island under a Special Use Permit. Surviving structures at the Sivertson Fishery are typical of a commercial Isle Royale fishery, and in addition to the necessary service buildings - fish houses, net houses, a residence, and docks - there is also a large collection of fishing equipment remaining on site that includes nets, net buoys, fish boxes, boxes of floats, and "sticks," as well as gas barrels and boats.
In addition to the Sivertson's Fishery, the site is also associated with Einar Ekmark, a Scandinavian fisherman who lived in the Art Sivertson Cottage until his death in 1986. Ekmark left his homeland of Sweden in 1929 when he was 24 and immigrated to Minnesota. In 1943, he came to Isle Royale with his brother Karl and began fishing.
Art Sivertson Fishery (Eckel/Ekmark)
Sam Sivertson Fishery (Eckel/Ekmark)
John & Beverly Torgerson / Olaf Brunvoll
Andrew and Mary Hansen
Emil Ellingson / John & Genevieve Miller
Bert & Helga Nicoliasen
Nels Wick / John A. Skadberg
Singer's Radio Tower
Are you related to this family? Would you be willing to share stories or photos associated with related events? If so, we would love to hear from you! Please contact the Cultural Resource Manager at Isle Royale National Park. Or write to:

Isle Royale National Park
800 East Lakeshore Drive
Houghton, Michigan 49931-1896
906-482-0984
Citations
National Park Service, U.S. Department of the Interior. Washington Island. N.p.: Seth Depasqual, n.d. Print.


Sivertson - Washington Island. List of Classified Structures. Isle Royale National Park. Houghton, MI.


Toupal, Rebecca S., Richard W. Stoffie, and M. Nieves Zedeno. The Isle Royale Folkefiskerisamfunn: Familier som levde av fiske: An Ethnohistory of the Scandinavian Folk Fishermen of Isle Royale National Park. Report for the National Park Service, Midwest Regional Office. Tucson: Bureau of Applied Research in Anthropology, University of Arizona, 2002.