Booth Fishery
Booth Island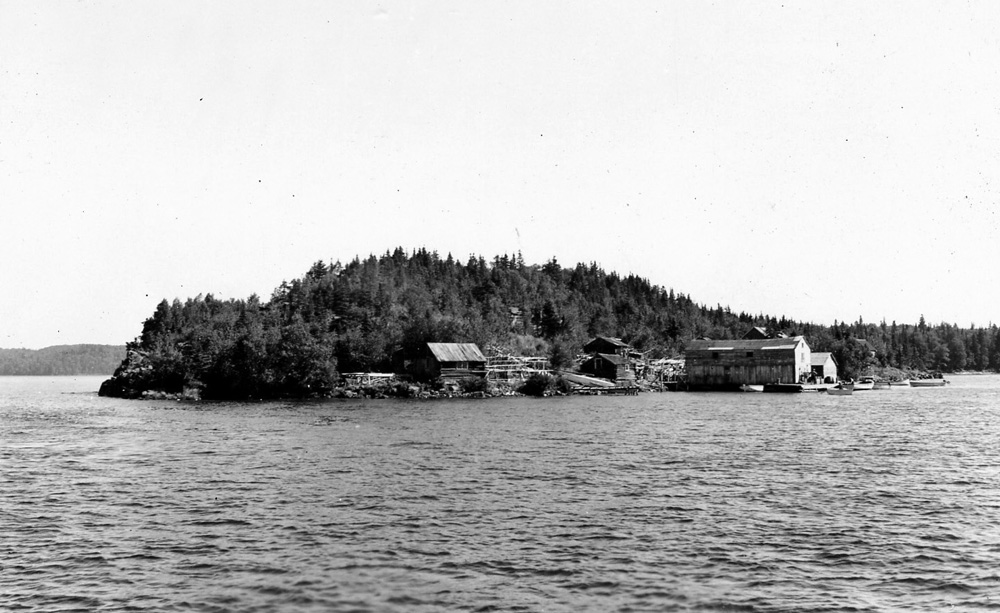 Booth Island, 1950s: [NVIC: 50-1100], ISRO Archives.
T
he Booth company established a fishery at Washington harbor in 1886, and provided consistent shipping on the large-capacity, company owned America vessel, creating a broader and more consistent market for the isolated Isle Royale fishermen.[1] Additionally, the influx of Scandinavian immigrants to the island in the mid-1800s brought new fishing technologies that lengthened the fishing season - and also served to help populate the island.[1] Jacob Hector, after relinquishing his fish business, joined the Booth Company and captained its steamer Dixon along the North Shore and to Isle Royale.[3] By 1894, there were approximately 100 men operating 40 boats on Isle Royale.[1]
The Booth company was based in Chicago but operated out of Duluth, and intergrated the Isle Royale fishing industry with the Chicago wholesale distribution market.[1] Booth dominated the fish business in Duluth into the 1890s by which time the Norwegian fishermen had developed the herring industry.[3] The resulting trade in fresh herring allowed the Norwegian fish merchants to gain control of a larger share of Duluth's wholesale trade.[3] These merchants, as Booth did, advanced credit to experienced Norwegian fishermen who came to Minnesota to settle and fish for herring, often in response to encouragement from family members already settled there.[3] By the 1920s, as a result of the financial assistance, between 80% and 90% of the North Shore fishermen were Norwegian.[3] Booth and H. Christiansen and Sons remained the predominant fish companies, although, as tourism to the Island increased, they companies diversified to accommodate both passenger and market transport.[3]
Two Booth Company vessels had passenger accomodations, and provided passage for sports fishermen to Isle Royale.[1] By 1902 the Booth steamer America drew much of the North Shore and Isle Royale trade, offering relatively sophisticated travel accommodations on board.[1] After the America sank in 1928, H. Christiansen and Sons purchased the Booth Fishery property and continued to operate from the island until the 1940s.
In an effort to return the island to a state of wilderness, any remaining Booth and H. Christiansen and Sons buildings were burned by the National Park Service sometime following the Wilderness Act of 1964 being signed into law.
Image Gallery
Are you related to this family? Would you be willing to share stories or photos associated with related events? If so, we would love to hear from you! Please contact the Cultural Resource Manager at Isle Royale National Park. Or write to:

Isle Royale National Park
800 East Lakeshore Drive
Houghton, Michigan 49931-1896
906-482-0984
Citations
Franks, Kathryn E. and Arnold R. Alanen, 1999. Historic Structures at Isle Royale National Park: Historic Contexts and Associated Property Types. Department of Landscape Architecture, University of Wisconsin-Madison, January 1999.


Gale, Thomas P, and Kendra L. Gale. Isle Royale: A Photographic History. Houghton, Mich: Isle Royale Natural History Association, 1995. Print.


Toupal, Rebecca S., Richard W. Stoffie, and M. Nieves Zedeno. The Isle Royale Folkefiskerisamfunn: Familier som levde av fiske: An Ethnohistory of the Scandinavian Folk Fishermen of Isle Royale National Park. Report for the National Park Service, Midwest Regional Office. Tucson: Bureau of Applied Research in Anthropology, University of Arizona, 2002.