Anderson Fishery
Tobin Harbor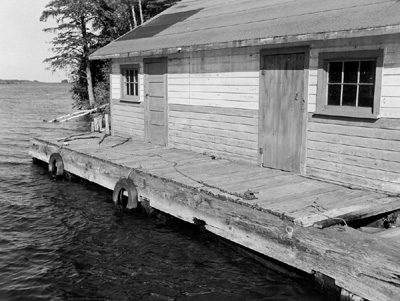 Arthur Anderson Dock (#23), 1954: Hakala [NVIC: 50-608], ISRO Archives.
V
ictor and Andrew Anderson were commercial fisherman who operated one of only two fisheries located in the Tobin Harbor area. Later, their sons Emil (no relation to Emil Anderson of Belle Isle) and Arthur continued to operate the family owned fishery until the establishment of Isle Royale National Park. The Andersons did not accept the life lease option and sold the property outright to the U.S. government for $2,962.32. Located on Anderson's property at the time of sale was a cottage, privy, boathouse (#358), and a fish house (#83). The Mattson's continued to use Anderson's boathouse until 1962 when the deterioted structure was removed by the NPS.
Image Gallery
Are you related to this family? Would you be willing to share stories or photos associated with related events? If so, we would love to hear from you! Please contact the Cultural Resource Manager at Isle Royale National Park. Or write to:

Isle Royale National Park
800 East Lakeshore Drive
Houghton, Michigan 49931-1896
906-482-0984
Citations
Anderson Purchase Records. Isle Royale National Park. Houghton, MI.


Toupal, Rebecca S., Richard W. Stoffie, and M. Nieves Zedeno. The Isle Royale Folkefiskerisamfunn: Familier som levde av fiske: An Ethnohistory of the Scandinavian Folk Fishermen of Isle Royale National Park. Report for the National Park Service, Midwest Regional Office. Tucson: Bureau of Applied Research in Anthropology, University of Arizona, 2002.