Johnson/Anderson
Belle Harbor - Johnson Island
By: Toupal, Stoffie, and Zedeno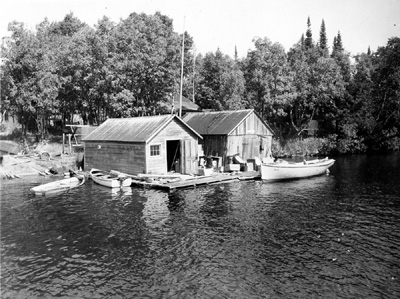 Emil Anderson Fish House and Dock (#305), 1950s: [NVIC: 50-1093], ISRO Archives..
D
uluth fishermen Herman Johnson and John Anderson established a commercial fishing business at present day Belle Isle around 1890. Johnson and Anderson were squatting and never held title to the property. Eventually the land was purchased by Belle Isle Resort owner Fred Schofield. Believing he also held title to Johnson Island, Schofield granted the pair permission to relocate their operations across the harbor. Johnson and Anderson would later purchase the island.[1]
Johnson Island, a five-acre island in Belle Harbor, has been called Fish Island, Bell Island, and Emil Anderson's. It lies east of Belle Isle campground where John Anderson and his partner Herman Johnson established their original fish camp. The fish camp includes the island, Belle Isle, and the waters between them. Johnson Island is not particularly impressive by itself but the surrounding area is clustered with islands similar to it. There are many bays, coves, channels, and reefs, and the area as a whole provides good shelter and anchorage. In the surrounding area, they hunted, fished, and gathered plants such as thimbleberries, raspberries, and blueberries. Occasionally, 4th of July celebrations were held but more often the Anderson family traveled to Tobin Harbor for the festivities there.[2]
While several fishermen fished the waters associated with Johnson Island, only the John Anderson and Herman Johnson families lived there. Anderson and Johnson fished the area from the 1880s to 1922 when Herman died. John's son, Gilbert, fished the area with his partner, Thure Goss, from about 1915 to 1918 before they left to serve in World War I. Gilbert returned after the war to fish alone until 1933. Emil, his father, and Uncle Edward fished the area from 1933 to 1937. [2]
On January 31, 1938, Johnson Island was sold to the U.S. government in exchange for $768.62 and a life lease. When John died, Emil and Edward continued fishing until Edward's passing in 1941. Emil continued fishing with his son and several hired hands until he retired in 1958. Surviving structures include the main residence, a fish house, and a log cabin. James and Mary Anderson are the only children elligible for a Special Use Permit.[3]
Image Gallery
Site Map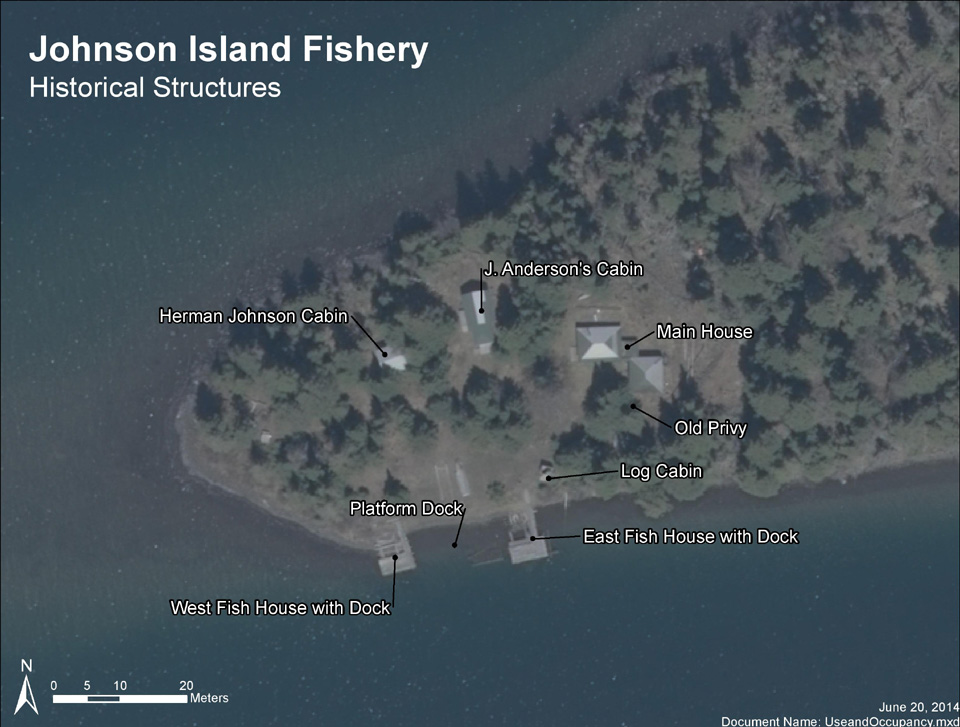 Johnson Island Fishery Site Map, 2014: Isle Royale National Park.
Are you related to this family? Would you be willing to share stories or photos associated with related events? If so, we would love to hear from you! Please contact the Cultural Resource Manager at Isle Royale National Park. Or write to:

Isle Royale National Park
800 East Lakeshore Drive
Houghton, Michigan 49931-1896
906-482-0984
Citations
Gale, Thomas P, and Kendra L. Gale. Isle Royale: A Photographic History. Houghton, Mich: Isle Royale Natural History Association, 1995. Print.


Toupal, Rebecca S., Richard W. Stoffie, and M. Nieves Zedeno. The Isle Royale Folkefiskerisamfunn: Familier som levde av fiske: An Ethnohistory of the Scandinavian Folk Fishermen of Isle Royale National Park. Report for the National Park Service, Midwest Regional Office. Tucson: Bureau of Applied Research inAnthropology, University of Arizona, 2002.


Anderson Purchase Records. Isle Royale National Park. Houghton, MI.