Milford and Myrtle Johnson
Crystal Cove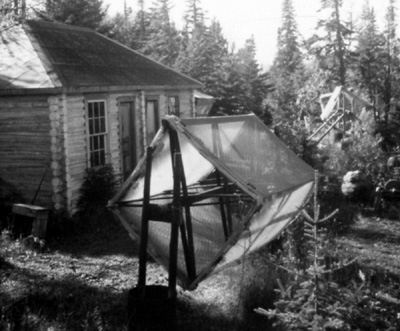 Milford Johnson's Gill Nets, 1960s: Broomberg [NVIC: 60-868], ISRO Archives.
Update Required
To play the media you will need to either update your browser to a recent version or update your
Flash plugin
.
Oral History 4: Milford Johnson, July 10, 1975: Isle Royale National Park.
S
uperintendent Gibbs approved use of Crystal Cove as a fishery to Milford Johnson in 1956. At that time, Milford moved his fishing site from Star Island to the Crystal Cove location. Milford Sr. and his brother were going to work the Crystal Cove fishery together, as they had at Star Island, but Bob was in the service around this time and was not particularly interested in fishing after his return. Milford and his wife Myrtle eventually operated the fishery by themselves and used the main lodge of the McGeath compound as a residence. Milford Sr. fished whitefish nets at the mouth of McCargoe Cove for 10 days in the fall, near the end of October. He would set nets for 24 hours from 4am to 4am. Milford Sr. also fished Steamboat Island, Five-Finger Bay, Big Todd, etc. It is said he never fished beyond Big Todd Harbor.
See also:
Recreation History, Summer Cottages, North Shore: McGeath/Nixon
Historic Fisheries, Rock/Tobin Harbors, Star Island: Star Island Fishery
Image Gallery
Are you related to this family? Would you be willing to share stories or photos associated with related events? If so, we would love to hear from you! Please contact the Cultural Resource Manager at Isle Royale National Park. Or write to:

Isle Royale National Park
800 East Lakeshore Drive
Houghton, Michigan 49931-1896
906-482-0984
Citations