Anderson/Scotland
Amygdaloid Channel
By: Toupal, Stoffie, and Zedeno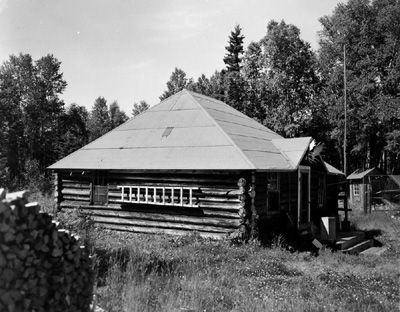 Andrew Anderson Cabin (#308), 1950s: [NVIC: 50-1089], ISRO Archives.
N
ear the south end of Amygdaloid Island, tucked into a small bay fronting Amygdaloid Channel lies the fish camp of Conrad Scotland and Andrew Anderson, two Norwegian bachelors of no relation to other Isle Royale Scandinavian fishing families. The Amygdaloid Island Ranger Station occupies the site today with NPS personnel making use of the cabin built by Scotland and Anderson.
The fish camp, which the two men occupied from the 1920s to the 1950s, extended from its terrestrial base into the bay and out to the fishing grounds that continued twenty-two miles south to Finlander Reef. Scotland and Anderson were bounded to the immediate north by Emil Anderson's fishing grounds and to the south by the Washington Harbor fishing area.
The northwest length of Isle Royale offered a few pockets of safe harbors where fish camps could be established. Being more exposed to the extreme storm conditions of Lake Superior, however, there were fewer fish camps. John Linklater based his fish camp on Birch Island, about two miles south of Scotland-Anderson in the confluence of McCargoe's Cove and Brady Cove. Another fish camp had been established at Green Isle, about eight miles south of Scotland-Anderson in Todd Harbor, but was eventually abandoned. After Scotland and Anderson left in the 1950s, their camp was used briefly by two brothers from Washington Harbor, Tom and Dick Eckel.
Although Scotland and Anderson were unrelated to the other Isle Royale fishing families, their place being central on the north side of the Island allowed them to maintain social connections with other fishing families, particularly John Anderson's family on Johnson Island. They had connections also with the Belle Isle Resort, the fishermen at Birch Island and Green Isle, and the towns along the north shore where these fishermen spent the winters.
Image Gallery
Are you related to this family? Would you be willing to share stories or photos associated with related events? If so, we would love to hear from you! Please contact the Cultural Resource Manager at Isle Royale National Park. Or write to:

Isle Royale National Park
800 East Lakeshore Drive
Houghton, Michigan 49931-1896
906-482-0984
Citations
Toupal, Rebecca S., Richard W. Stoffie, and M. Nieves Zedeno. The Isle Royale Folkefiskerisamfunn: Familier som levde av fiske: An Ethnohistory of the Scandinavian Folk Fishermen of Isle Royale National Park. Report for the National Park Service, Midwest Regional Office. Tucson: Bureau of Applied Research in Anthropology, University of Arizona, 2002.