National Park Service History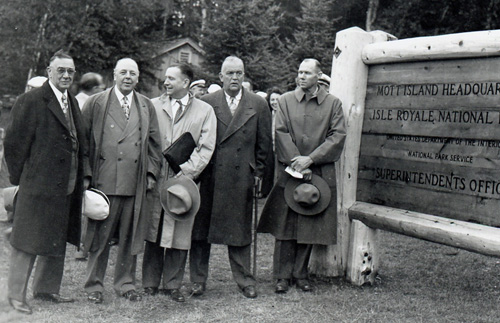 Isle Royale National Park Dedication Ceremony, 1946: [NVIC: 40-089], ISRO Archives.
T
he idea for Isle Royale National Park arose after the close of the copper mining era, during the height of the island's tourism industry. In the early 1920s a number of the island's summer residents spearheaded the idea of a national park on Isle Royale. Over the next 20 years, state and federal legislators, journalists, scientists, scholars, and naturalists followed suit and advocated the preservation of Isle Royale wilderness by designating it a national park. The actualization of the park was made possible through the assistance of President Roosevelt's public works programs, which were created in 1933 and operated until 1942. As part of these programs, between 1935 and 1941 Civilian Conservation Corps (CCC) recruits were commissioned to build trails, park facilities, and fight fires on Isle Royale.
Isle Royale was officially dedicated a national park on August 27 1946, six years after title to all lands had been secured. In the mid-1950s, after ten years of operation, Isle Royale National Park received many improvements as part of the Mission 66 program. This work was initiated by Superintendent Conrad Wirth in an effort to update and improve national parkland facilities. The program was to create a "renaissance" for the nation's parklands, and would span a ten-year period, beginning in 1956 and ending in 1966, the 50th anniversary of the National Park Service. During this period, new paradigms of wilderness conservation were emerging, and in 1964 the Wilderness Act was passed. Concern over the preservation of Isle Royale's wilderness would continue to grow as part of this movement, and the perseverance of environmental groups is reflected in the current management of Isle Royale National Park, where 99 percent of the land area is designated as "wilderness."
Citations:
Franks, Kathryn E. and Arnold R. Alanen, 1999. Historic Structures at Isle Royale National Park: Historic Contexts and Associated Property Types. Department of Landscape Architecture, University of Wisconsin-Madison, January 1999.