Relict Shoreline Survey Project
2015 Shoreline Survey: McCargoe Cove, 2015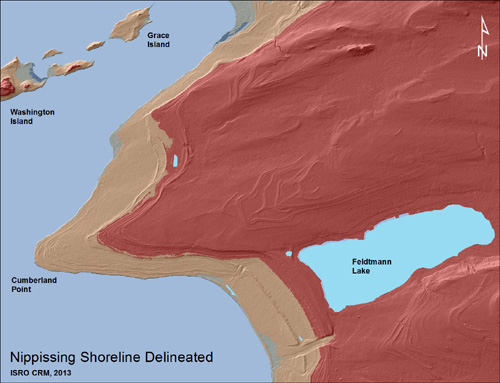 S
ince 2012, the cultural resource programs at Isle Royale, Grand Portage National Monument, and Superior National Forest have combined staff, interns and volunteers for the purpose of adding information to the underrepresented Archaic-period cultures situated on the now-inland Nipissing relict shoreline. Much of this survey work has occurred on the western side of the island in the vicinity of Washington Harbor. Between 2012 and 2014, archaeologists located 12 new sites in this region. One of these sites, the Grace Peninsula Site, was selected for further examination and excavated in 2013 as part of Megan Stroh's graduate thesis project. Radiocarbon analysis dated this site to ca. 4000 calibrated years before present. This date is significant in that it represents the oldest occupation site yet identified on Isle Royale. Older radiocarbon dates do exist, but derive from Native American mining pits at Minong Mine. In other words, we know where people were mining long ago, but relatively little about where they went after a hard day extracting copper.
After three years on the west end with encouraging results, we sought to broaden our sample by testing separate parts of the island. With the older radiocarbon dates in mind, the project moved up to the vicinity of McCargoe Cove, to see if we could locate occupation sites potentially related to the early indigenous mining activities at the Minong Mine. In addition to our previous methods, the survey was informed by new predictive models developed by graduate students Danielle Kiesow and L. Casey Campetti. The 2015 survey identified 8 new sites and confirmed Archaic-period use of McCargoe Cove's Nipissing-era beaches thus adding to our present understanding of the time and nature of occupancy on Isle Royale.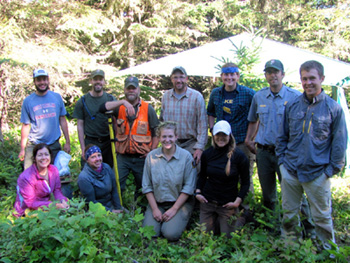 Relict Shoreline Survey Crew, 2013: Isle Royale National Park.
Aside from radiocarbon dating methods, how do we feel comfortable associating our finds with the Archaic period? We pay attention to the material assemblages, that is, the type of trends we may notice in the material record. More recent sites, i.e. Woodland cultures, tend to feature an abundance of exotic stone material that would have been imported from northern mainland via canoe. The converse is true for Archaic cultures on Isle Royale, where we see less exotic material and more Portage Lake Rhyolite (PLR), a scrappy local material derived of island beach cobbles. PLR is far from ideal. It doesn't break as clean as the fancy stuff from up north and the edges probably didn't last long. But it is somewhat predictable, and cutting tools are still possible on the quick. In short, PLR gets the job done, but we doubt much of it traveled back to the mainland where better material was more prevalent.
Copper items are also found at Archaic sites and we have identified knives, chisels, awls, and a variety of lumps and preforms associated with copper tool production. Separately, we also consider the site's elevation with respect to Nipissing shoreline. If it falls on the Nipissing, and the material assemblage is consistent with dated Archaic sites found elsewhere on Isle Royale, we feel better about ascribing Archaic origin versus something more recent. Stay tuned as we are gearing up for more graduate work this summer, this time on one or two of the sites identified above McCargoe Cove.
2014 Shoreline Survey: Washington Harbor, 2014
The stone biface pictured below (image gallery, top left) was located during a 2014 survey of the island's relict Nipissing shoreline near Washington Harbor. Archaeologists believe it to be associated with the island's Archaic-period (ca. 5000 years before present) based on material type and association with Nipissing. It is fashioned from Portage Lake Rhyolite (PLR), a local material found in cobble form along the island's southwestern shorelines. It was likely used for cutting meat and/or scraping hides. This biface is unique in that it is the first formal PLR tool identified on Isle Royale; only stone chippings and core pieces had been found previously. PLR is a fairly scrappy stone material and paled in comparison with those found on the mainland. However, it was workable, breaking in predictable ways, and as such had real value on the isolated archipelago. PLR is abundant in island Archaic period sites, less so in more recent Woodland sites. So when an archaeologist finds a lot of PLR at an island site, especially along the Nipissing shoreline, they feel more confident that the site is Archaic, i.e. representing a more early use of Minong, the Native American term for Isle Royale.
2013 Shoreline Survey
Citations
DePasqual, Seth. Summary of Relict Shoreline Survey Project, 2015. Houghton, MI: U.S. National Park Service, Isle Royale National Park, February 18, 2016. Print.