Historic Logging Operations
Mead Timber Company
Isle Royale Yields Its First Harvest to Woodsman's Ax
18,000 Cords of Pulpwood Banked for Shipment
The Daily Mining Gazette, June 04, 1935.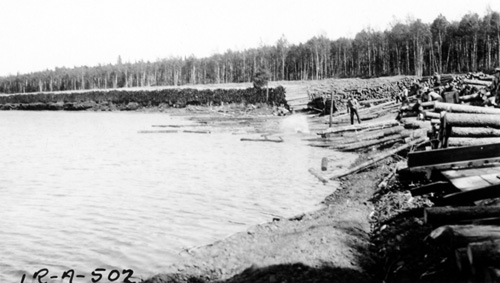 Pulpwood on the Shore of Siskiwit Bay; Mead Pulpwood Operation, ca. 1935: [NVIC: 30-001], ISRO Archives.
N
early 18,000 cords of pulpwood are banked on the landing of the Meade Timber Co. at the inner end of Siskiwit Bay, Isle Royale, the winter's harvest of the first logging operations ever carried out on the great Lake Superior island.
The pulpwood, chiefly spruce with some balsam mixed in, is piled in tiers extending back 10 rods or more from the water's edge and covering a banking ground exactly a mile in length.
The logging crews which did the cutting and hauling left Isle Royale two weeks ago and the lumber camp, which had accommodated 150 or more men throughout the winter, broke up. Cutting operations began late last summer. Preparations for the establishment of the camp were made a year ago this spring.
Sometime in June or July rafting crews will reach Isle Royale to take charge of moving the huge log pile from the island. The logs will be rolled down the skidways into the bay by hand labor, rafted together with the aid of log booms and the job of towing them to paper mills in Wisconsin will begin.
The tugs towing the giant rafts of pulpwood will move only about a mile an hour. The transfer of the logs will probably be completed in two rafts.
About 2,500 cords of the pulpwood cut by the logging company remains unhauled in the woods, left over when the spring breakup halted the operations. A hauling crew will return to the camp next fall to complete the job of bringing this down to the landing.
The timber has been cut in a dense swamp along the Big Siskiwit River and the cutting has done little to mar the wild and unspoiled beauty of Isle Royale. The lands owned by the Meade Co. are under option by the United States park service and the cutting was carried out within the terms of the option.
A dangerous evergreen slash remains from the logging operations, however, constituting a forest fire hazard of the worst type. If not taken care of this slashing would be likely to cause fires that might damage a large area of the island. It is expected, however, that the slash will be disposed of by CCC crews from a camp that will operate on Siskiwit Bay, near the abandoned lumber camp, this summer. This will be one of two CCC camps to be established on Isle Royale early in June.
Image Gallery
Site Map: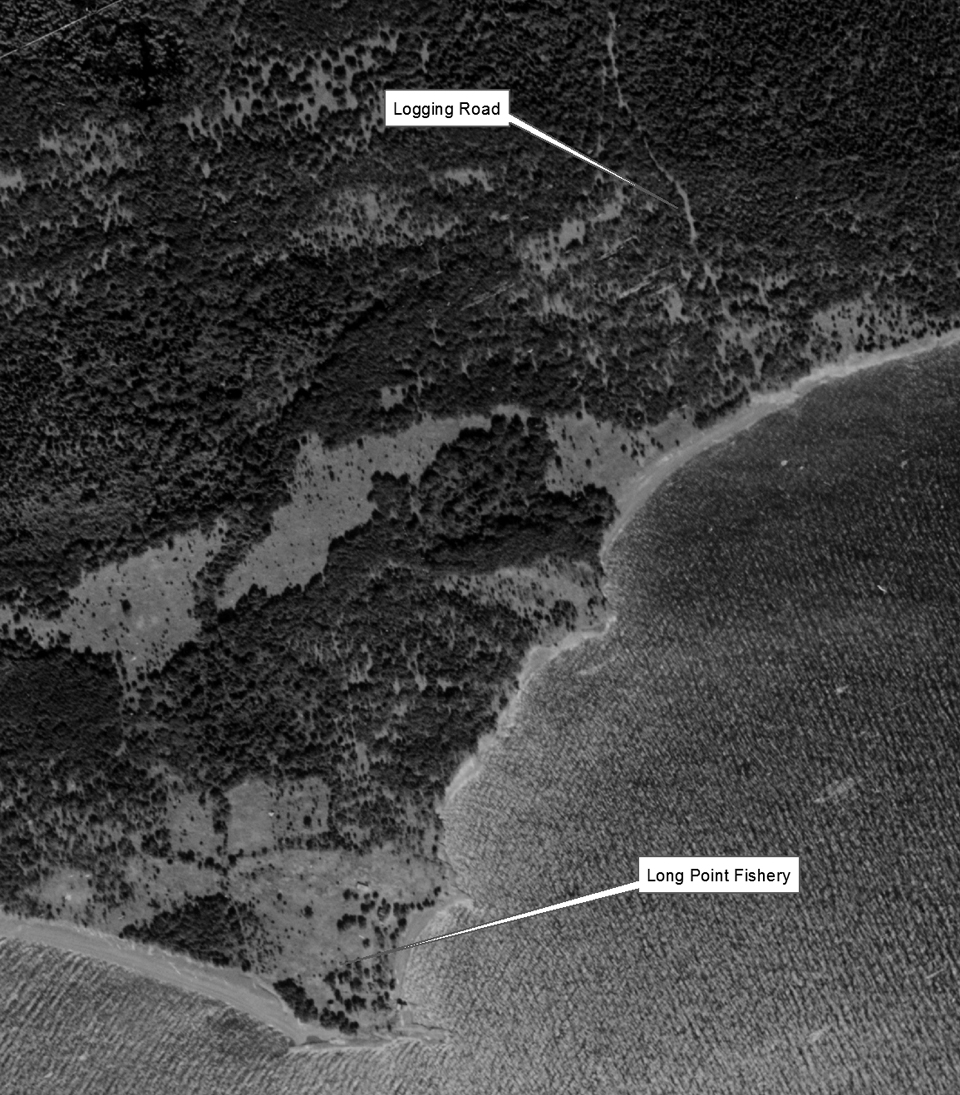 Logging Road (Near Location of Long Point Fishery), 1931: Isle Royale National Park.
Citation:
The Daily Mining Gazette. Isle Royale Yields Its First Harvest to Woodsman's Ax. Houghton, Mich: Mining Gazette Co, June 04, 1935. Reprinted with permission, Michael Scott, May 11, 2016.